"Slash your risk of cancer" – by using a tanning bed? That claim caught our attention, too. A settlement with Dr. Joseph Mercola and two Illinois-based companies includes $5.3 million in refunds for people who bought Mercola's indoor tanning systems. The case also offers a reminder to advertisers to consider established science in crafting your ad claims and a compliance message if your marketing materials feature endorsements.
Public health experts have been warning people for decades about the risks of indoor tanning. Many of the claims cited in the FTC's complaint were designed to assuage consumers' concerns:
"New Study Shows Tanning Beds Decrease Melanoma Risk"
"A Healthy Tan Will Actually Reduce Your Risk of Deadly Skin Cancer"
"[Researchers] found that increased tanning bed use was NOT associated with melanoma."
"Using the Sun for Skin Cancer Prevention"
"Forget creams and surgery – this puts collagen back to the surface of your skin to fill in wrinkles, helping you reverse the appearance of aging."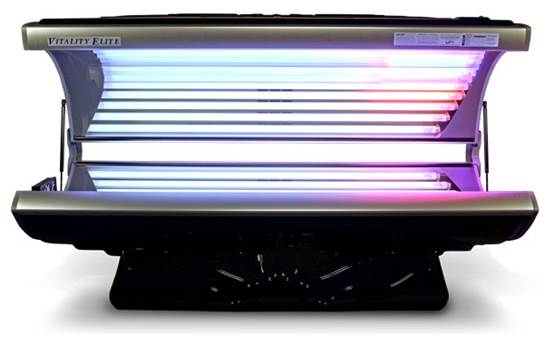 At first glance, it looked like the defendants had enlisted some heavy-hitting public health allies in their campaign. According to one ad, "The FDA strictly controls the indoor tanning industry by setting standards for proper use of equipment – they have endorsed indoor tanning devices as safe."
Another promotional piece touted that Mercola's products were "Recommended by the Vitamin D Council." What's the Vitamin D Council? According to the defendants, it's "a nonprofit organization whose aim is to educate the public about Vitamin D deficiency and how to prevent it."
But don't start working on that burnished bronze just yet. The complaint challenges as false or deceptive the defendants' claims that their tanning systems were safe, that they wouldn't increase the risk of skin cancer (including melanoma), and that they would actually reduce the risk of skin cancer. The FTC also says the defendants didn't have proof to back up their representation that indoor tanning systems delivering both UV and red light can "reverse the appearance of aging." In addition, the complaint cites as false the defendants' statement that research proves indoor tanning systems don't increase the risk of melanoma.
What about the representation that the FDA has endorsed the use of indoor tanning systems as safe? Bunk, alleges the FTC. That's not the FDA's position at all. What's more, the FTC says the defendants failed to disclose that they arranged for the Vitamin D Council to be compensated for its glowing endorsement.
Count Five of the complaint merits particular attention. A running theme throughout Mercola's ad campaign was that its tanning systems provide, among other things, Vitamin D-related health benefits. The FTC says that in light of those claims, it was deceptive for the defendants not to disclose that: 1) indoor tanning systems increases the risk of skin cancer, including melanoma; and 2) it's not necessary to tan to produce Vitamin D.
A lifetime ban in the proposed stipulated order turns out the lights on the defendants' marketing or selling indoor tanning systems. If they sell other devices, the order prohibits – among other things – false or unsubstantiated health or efficacy claims. And they'll have to disclose any material connection they have to people or groups endorsing or reviewing any devices they advertise, sell, or distribute.
What's in it for the consumers who paid between $1,200 and $4,000 for the tanning devices? They're eligible for refunds up to a total of $5.3 million.
The case offers an illuminating message for marketers. FTC orders typically require advertisers to support health claims with "competent and reliable scientific evidence" that is sufficient in quality and quantity based on standards generally accepted by relevant experts. But the definition doesn't end there. It also specifies that the evidence must be "considered in light of the entire body of relevant and reliable scientific evidence." When it comes to cancer prevention in general – and indoor tanning in particular – one key component of that "entire body of relevant and reliable scientific evidence" is the position of public health experts. That's why savvy marketers should consider it carefully when evaluating the state of the science.
0 Comments
---
It is your choice whether to submit a comment. If you do, you must create a user name, or we will not post your comment. The Federal Trade Commission Act authorizes this information collection for purposes of managing online comments. Comments and user names are part of the Federal Trade Commission's (FTC) public records system, and user names also are part of the FTC's computer user records system. We may routinely use these records as described in the FTC's Privacy Act system notices. For more information on how the FTC handles information that we collect, please read our privacy policy.
The purpose of this blog and its comments section is to inform readers about Federal Trade Commission activity, and share information to help them avoid, report, and recover from fraud, scams, and bad business practices. Your thoughts, ideas, and concerns are welcome, and we encourage comments. But keep in mind, this is a moderated blog. We review all comments before they are posted, and we won't post comments that don't comply with our commenting policy. We expect commenters to treat each other and the blog writers with respect.
We won't post off-topic comments, repeated identical comments, or comments that include sales pitches or promotions.
We won't post comments that include vulgar messages, personal attacks by name, or offensive terms that target specific people or groups.
We won't post threats, defamatory statements, or suggestions or encouragement of illegal activity.
We won't post comments that include personal information, like Social Security numbers, account numbers, home addresses, and email addresses. To file a detailed report about a scam, go to ReportFraud.ftc.gov.
We don't edit comments to remove objectionable content, so please ensure that your comment contains none of the above. The comments posted on this blog become part of the public domain. To protect your privacy and the privacy of other people, please do not include personal information. Opinions in comments that appear in this blog belong to the individuals who expressed them. They do not belong to or represent views of the Federal Trade Commission.
More from the Business Blog
Get Business Blog updates