Ads for Lumosity's "brain training" program made it sound simple. Play games for 10-15 minutes several times a week to delay memory decline; protect against dementia and Alzheimer's disease; improve school, work, and athletic performance; and reduce the effects of everything from ADHD to post-traumatic stress disorder. But an FTC complaint alleges that defendant Lumos Labs didn't have sound science to support those claims. What's the message for marketers? When it comes to unsubstantiated cognition promises, the FTC isn't playing games. (A side note to advertisers: Don't miss the count in the complaint about soliciting consumer testimonials.)
Lumosity ads cast a wide net, claiming its program "benefits everyone." For students, the company touted "improved scores on standardized tests of cognitive ability." Athletes were told that Lumosity would enhance their performance on the diamond, ice, hardwood, fairway, court, and even cricket pitch.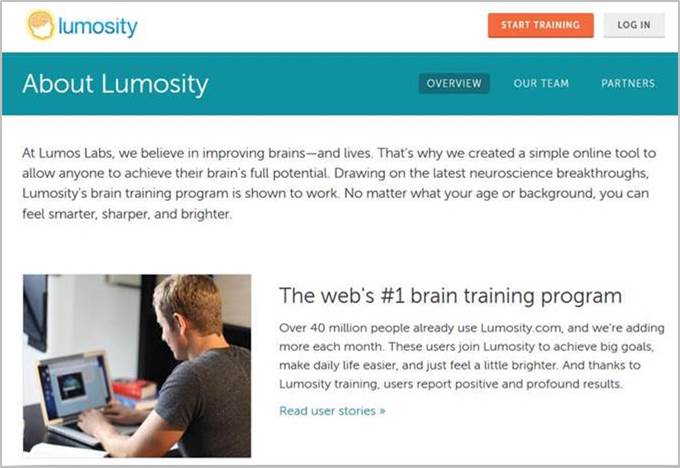 Ads also targeted people with serious medical conditions. For example, Lumosity claimed stroke patients and cancer survivors could regain cognitive abilities, including a purported reduction in "chemofog" in children getting chemotherapy. The company advertised Lumosity as a way to "improve outcomes in combat veterans suffering from traumatic brain injuries." What about people with ADHD? According to the ads, through "specifically designed brain training" they would "develop sustained attention and focus."
Another key market for Lumosity was older Americans concerned about age-related declines in cognition. Some ads focused on "Where did I put my keys?"-type lapses, but others went further, claiming the games would protect against dementia and Alzheimer's disease.
The FTC alleges that the defendants made a host of false or deceptive representations, including that scientific studies prove that training with Lumosity provides a long list of real-world benefits. The complaint also charges that the company failed to disclose that it solicited many of the glowing testimonials on its site as part of a contest.
The proposed settlement imposes a $50 million judgment, which will be suspended after the company pays $2 million. In addition, Lumosity will have to contact people enrolled in its auto-renewal plan between 2009 and 2015 to offer them a simple, one-click way to cancel and avoid future billing. The order also includes injunctive provisions to protect consumers from future misrepresentations. For example, Lumosity will need human clinical testing before making a broad range of cognition claims. Those provisions also apply to corporate officers Kunal Sarkar and Michael Scanlon.
What does the Lumosity case suggest for other companies?
Heed the cognition admonition. Whether it's teaching toddlers to read, boosting board scores for high school students, or addressing memory lapses that concern older consumers, more companies are marketing products with the promise of improved cognition. The Lumosity settlement is the latest in a series of cases reminding advertisers that claims like that need solid scientific support.
Mind the gap.  Lumosity users were able to track their game performance and compare it with other users. Let's assume a person showed improvement over time. Does that establish a boost in memory, focus, and productivity that will translate into tangible day-to-day benefits? Or does it just show that the person got better at playing the game? One of the concerns in this case is that Lumosity promised real-world improvements in work, school, and athletic performance without appropriate proof. Savvy advertisers are careful to make sure their ad claims fit the evidence.
It's unwise to secretly incentivize.  Lumosity prominently featured consumer testimonials on its website and in other marketing materials. The stories may have seemed impressive at first, but there was something readers weren't told: Lumosity solicited many of those endorsements through contests where people could win prizes like an iPad, a trip to San Francisco, or a lifetime Lumosity subscription.  According to the FTC, that's the kind of "material connection" between an advertiser and an endorser that must be disclosed. Read The FTC's Endorsement Guides: What People are Asking for a compliance refresher.
More from the Business Blog
Get Business Blog updates