It doesn't take much to convince us we need something new for the shoe closet – and our vintage high-tops and periwinkle platforms stand as a silent testament to that. But an ultraviolet light contraption advertised to kill germs, fungus, and bacteria, including MRSA, inside shoes? An FTC settlement with the marketers of shUVee gives the boot to those misleading claims. A second settlement turns the lights out on representations by other advertisers that their Nano-UV disinfecting devices kill microorganisms on all kinds of surfaces.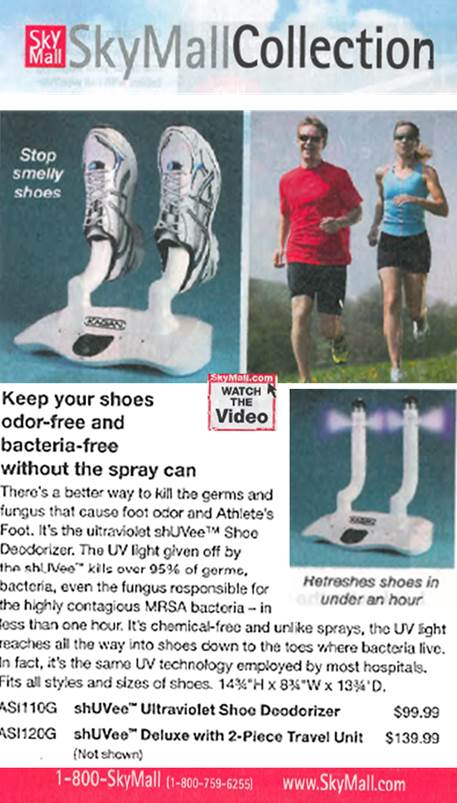 If you've spent much time on the tarmac, you may have seen these products advertised in the SkyMall in-flight magazine located in the seat pocket in front of you. (We've always wanted to say that.) Consumers also could buy them from major online retailers and catalogs. Angel Sales of Chicago claimed that shUVee "kills over 95% of germs, bacteria, even the fungus responsible for the highly contagious MRSA bacteria – in less than one hour." For consumers itching to end Athlete's Foot, the company said its product "kills germs and fungus" that cause it. The basic shUVee set buyers back about $100, while the "shUVee Deluxe with 2-piece Travel Unit" sold for $140.
Huntington Beach-based Zadro Health Solutions sold the Nano-UV Disinfection Scanner, the Nano-UV Wand, the Nano-UV Water Disinfectant for between $60 and $160. Ads claimed that the products "have been proven to eliminate 99.9% of targeted germs and viruses on surfaces and in water in as little as 10 seconds." What were those "targeted germs and viruses"? Potential killers like "Salmonella, E. Coli, Staphylococcus Aureus, and the H1N1 virus."
The Nano-UV Dual Scanner should have been a germaphobe's dream, purportedly eliminating "99.99% of bacteria, mold, fungus and virus surface contaminants" with "a quick 10-second sweep" of its light. According to the company, those surfaces included potential yuck zones like public restrooms, litter boxes, hotel bedding, and – ironically enough – airplane seats.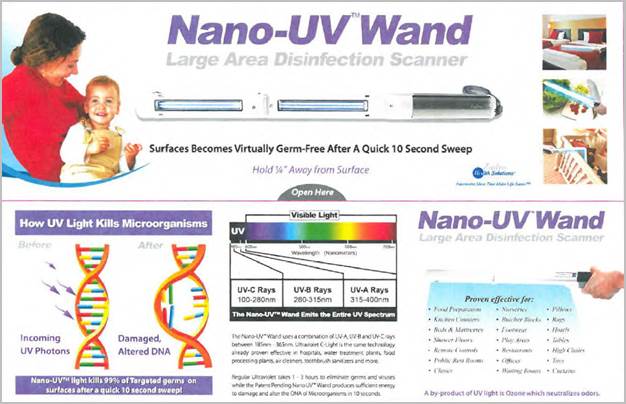 The complaints shine a light on where the FTC says the companies went wrong. Despite claims that the UV products would kill virtually all disease-causing pathogens, the FTC alleges that Angel Sales and Zadro Health Solutions didn't have appropriate proof to back up their promises, including their impressive-sounding scientific statistics.
The proposed orders require the companies to have competent and reliable scientific evidence to support all future claims about the health benefits, performance, or efficacy of any product or service. In addition, the orders specifically prohibit deceptive "scientifically proven" claims or misrepresentations about tests, studies, or research. Those requirements apply to the corporate defendants and to the individuals who ran the companies.
The order against Angel Sales includes a $656,423 judgment, which will be suspended due to the defendants' financial condition. Zadro Health will pay $222,029 in consumer refunds, with the remainder of the $629,359 judgment suspended.
The settlements illuminate an important substantiation principle. Carefully consider the science in light of how consumers will use the product in a real-world setting. For example, UV light depends on exposure to have an effect. It can't bend around objects, shine through opaque materials, or penetrate into porous items. Companies making UV disinfecting claims need to ensure what they say about their products matches up with the scientific evidence.
It is your choice whether to submit a comment. If you do, you must create a user name, or we will not post your comment. The Federal Trade Commission Act authorizes this information collection for purposes of managing online comments. Comments and user names are part of the Federal Trade Commission's (FTC) public records system, and user names also are part of the FTC's computer user records system. We may routinely use these records as described in the FTC's Privacy Act system notices. For more information on how the FTC handles information that we collect, please read our privacy policy.
The purpose of this blog and its comments section is to inform readers about Federal Trade Commission activity, and share information to help them avoid, report, and recover from fraud, scams, and bad business practices. Your thoughts, ideas, and concerns are welcome, and we encourage comments. But keep in mind, this is a moderated blog. We review all comments before they are posted, and we won't post comments that don't comply with our commenting policy. We expect commenters to treat each other and the blog writers with respect.
We won't post off-topic comments, repeated identical comments, or comments that include sales pitches or promotions.
We won't post comments that include vulgar messages, personal attacks by name, or offensive terms that target specific people or groups.
We won't post threats, defamatory statements, or suggestions or encouragement of illegal activity.
We won't post comments that include personal information, like Social Security numbers, account numbers, home addresses, and email addresses. To file a detailed report about a scam, go to ReportFraud.ftc.gov.
We don't edit comments to remove objectionable content, so please ensure that your comment contains none of the above. The comments posted on this blog become part of the public domain. To protect your privacy and the privacy of other people, please do not include personal information. Opinions in comments that appear in this blog belong to the individuals who expressed them. They do not belong to or represent views of the Federal Trade Commission.
More from the Business Blog
Get Business Blog updates