Dare us to describe the legal ramifications of a recent advertising settlement involving health claims in the style of a cringeworthy rap from 1990?  Cue up the bass line 'cause here we go.
Yo, FTC, let's kick it.
Lice, Lice, Baby.  Lice, Lice, Baby.
Advertisers, stop!  Support your claims with back-up
Or face an enforcement crack-up.
You need proof. There's no exception.
The law bans every kind of deception.
To say your products prevent infestation,
You need scientific substantiation.
Lice, Lice, Baby.  Lice, Lice, Baby.
OK, we promise never to do that again.  You're welcome.
The FTC's proposed settlement with Lornamead, Inc., makers of the Lice Shield product line, offers a chorus for businesses who want to keep their claims in tune.
Lots of stuff on the market promises to treat a lice infestation once the creepy-crawlies have found their way onto a kid's head.  But Lornamead's Lice Shield products – a shampoo-conditioner combo, a leave-in spray, a stick, and a spray for hats and helmets – claimed to prevent infestations in the first place.  According to ads:  "THE BEST WAY TO TREAT LICE IS TO AVOID GETTING THEM.  Be prepared with Lice Shield.  Scientifically shown to repel head lice, reducing a child's chance of catching lice during an outbreak. Safe & pesticide free.  Formulated with a proprietary blend of essential oils to repel lice. . . . School lice outbreaks are a fact of life, but now you can reduce the risk of infestation.  Don't Get Lice, Get Lice Shield."
Don't just take our word for it, the company said.  "Scientific studies have shown that the use of Lice Shield Shampoo and Conditioner in 1 and Lice Shield Leave in Spray decreases the chance of lice infestation by over 80%."  Another ad included a statistical chart to underscore the "scientifically proven" point.  (You'll remember from sophomore Stats class that "p-value" is a term related to the evaluation of whether test results are the product of cause-and-effect vs. random chance.)
The complaint charges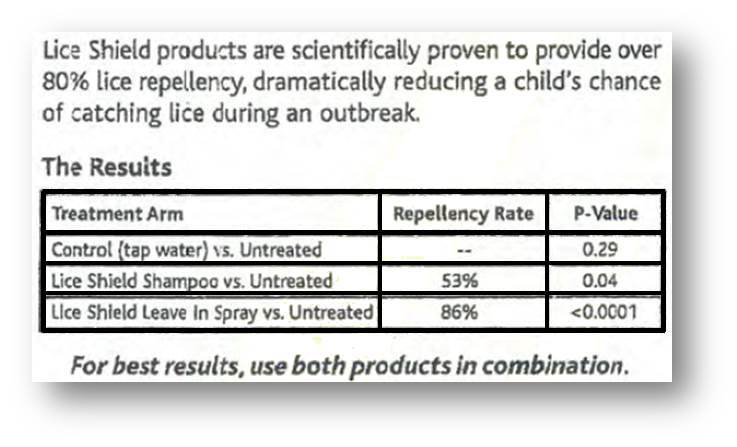 that the company didn't have substantiation to prove that using its products would prevent head lice infestations, reduce the likelihood of infestation by over 80%, or reduce the risk of infestation during an outbreak.  The FTC also alleges the company didn't have proof to support the representation that spraying Lice Shield Gear Guard onto hats, helmets, etc., reduces the likelihood of getting lice.  What about Lornamead's claim that scientific tests prove that its products significantly reduce the likelihood of a head lice infestation?  The FTC challenged that as false.
To settle the case, the company will turn over $500,000 and has agreed to support future claims with sound science.  They'll need at least one human clinical trial to substantiate claims that a drug, cosmetic or pesticide will:  1) prevent a head lice infestation;  2) eliminate or reduce the risk of an infestation by a specific percentage or amount; or 3) repel all lice or a specific percentage or amount of lice from a person's head.  Other health-related claims will have to meet the "competent and reliable scientific evidence" standard.  In this context, that means "tests, analyses, research, or studies that have been conducted and evaluated in an objective manner by qualified persons, and that are generlly accepted in the profession to yield accurate and reliable results."  The deadline for filing comments about the proposed settlement is June 27, 2014.
A key consideration for advertisers itching to learn more about making health claims:  Don't just labor in the lab.  Of course, it's important to back up your claims with sound science and an evaluation of laboratory testing may be an important part of that.  But lice – and the consumers attempting to head off an infestation – live in the real world.  If you rely on a study to support your ad claims, make sure it yields real results for people buying your product.
0 Comments
---
It is your choice whether to submit a comment. If you do, you must create a user name, or we will not post your comment. The Federal Trade Commission Act authorizes this information collection for purposes of managing online comments. Comments and user names are part of the Federal Trade Commission's (FTC) public records system, and user names also are part of the FTC's computer user records system. We may routinely use these records as described in the FTC's Privacy Act system notices. For more information on how the FTC handles information that we collect, please read our privacy policy.
The purpose of this blog and its comments section is to inform readers about Federal Trade Commission activity, and share information to help them avoid, report, and recover from fraud, scams, and bad business practices. Your thoughts, ideas, and concerns are welcome, and we encourage comments. But keep in mind, this is a moderated blog. We review all comments before they are posted, and we won't post comments that don't comply with our commenting policy. We expect commenters to treat each other and the blog writers with respect.
We won't post off-topic comments, repeated identical comments, or comments that include sales pitches or promotions.
We won't post comments that include vulgar messages, personal attacks by name, or offensive terms that target specific people or groups.
We won't post threats, defamatory statements, or suggestions or encouragement of illegal activity.
We won't post comments that include personal information, like Social Security numbers, account numbers, home addresses, and email addresses. To file a detailed report about a scam, go to ReportFraud.ftc.gov.
We don't edit comments to remove objectionable content, so please ensure that your comment contains none of the above. The comments posted on this blog become part of the public domain. To protect your privacy and the privacy of other people, please do not include personal information. Opinions in comments that appear in this blog belong to the individuals who expressed them. They do not belong to or represent views of the Federal Trade Commission.
More from the Business Blog
Get Business Blog updates