Social media is a gold mine for scammers, and in the latest FTC Data Spotlight, we're digging deeper into this deceptive trend happening across social media platforms.
Why do we repeatedly ask people to file reports at ReportFraud.ftc.gov to let us know when they spot questionable conduct? Because – among other things – the FTC and law enforcement members of the Consumer Sentinel Network use that information to spot, track, and ultimately challenge illegal practices. The FTC's latest Data Spotlight documents the disturbing trend that among consumers who report scams, a skyrocketing percentage of them crossed paths with the perpetrator on social media.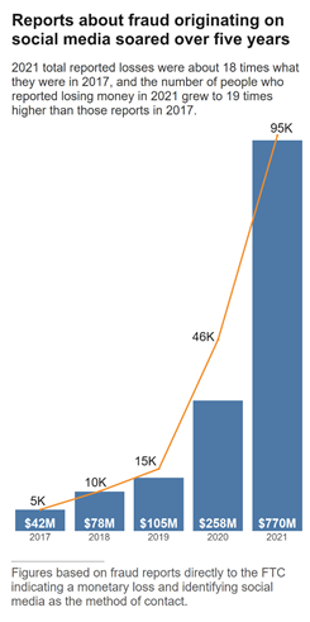 In 2021, more than 95,000 people reported about $770 million in losses to fraud initiated on social media platforms. Those losses accounted for about 25% of all reported fraud losses that year. Compare those numbers to reported losses initiated on social media platforms in 2017 and it's an eighteenfold increase.
Here are some other facts to consider:
Who's getting ripped off? It might not be who you think. Reports are up for every age group, but in 2021, people between 18 to 39 were more than twice as likely as older adults to report losing money to scams that started on social media.
Deceptive ads inflicted substantial consumer injury. Of the reports we received about fraud losses that started with a social media contact, 45% came from people who said they were ripped off when buying something marketed on social media. About 70% of those reports involved merchandise that consumers ordered, but never received. Some people reported ads on social media that impersonated the look of established online retailers.
Investment scams accounted for big money losses with one payment method emerging as the fraudster's favorite. Investment scams accounted for 18% of the reports we received about fraud perpetrated on social media platforms but made up 37% of the total dollar losses. Where people specified the payment method used for the investment scam, in 64% of reports it was cryptocurrency. (That should come as no surprise to people who read the FTC's May 2021 Data Spotlight on cryptocurrency scams.)
Why should these stats concern businesses? First, because when we say "consumers," we're talking about your family, your employees, people in your community, and you. Second, the increase in scam reports that trace back to advertising on social media should be of concern to companies that use those same platforms to promote their product honestly. Will consumers who have lost money due to advertising scams on social media think twice before opening their wallet again?
Read the latest FTC Data Spotlight and check out more Spotlights that illuminate other trends in what consumers are telling us. Have you spotted a questionable business practice? Let us hear from you at ReportFraud.ftc.gov.
 
It is your choice whether to submit a comment. If you do, you must create a user name, or we will not post your comment. The Federal Trade Commission Act authorizes this information collection for purposes of managing online comments. Comments and user names are part of the Federal Trade Commission's (FTC) public records system, and user names also are part of the FTC's computer user records system. We may routinely use these records as described in the FTC's Privacy Act system notices. For more information on how the FTC handles information that we collect, please read our privacy policy.
The purpose of this blog and its comments section is to inform readers about Federal Trade Commission activity, and share information to help them avoid, report, and recover from fraud, scams, and bad business practices. Your thoughts, ideas, and concerns are welcome, and we encourage comments. But keep in mind, this is a moderated blog. We review all comments before they are posted, and we won't post comments that don't comply with our commenting policy. We expect commenters to treat each other and the blog writers with respect.
We won't post off-topic comments, repeated identical comments, or comments that include sales pitches or promotions.
We won't post comments that include vulgar messages, personal attacks by name, or offensive terms that target specific people or groups.
We won't post threats, defamatory statements, or suggestions or encouragement of illegal activity.
We won't post comments that include personal information, like Social Security numbers, account numbers, home addresses, and email addresses. To file a detailed report about a scam, go to ReportFraud.ftc.gov.
We don't edit comments to remove objectionable content, so please ensure that your comment contains none of the above. The comments posted on this blog become part of the public domain. To protect your privacy and the privacy of other people, please do not include personal information. Opinions in comments that appear in this blog belong to the individuals who expressed them. They do not belong to or represent views of the Federal Trade Commission.
More from the Business Blog
Get Business Blog updates