Before we start making New Year's resolutions for 2017, let's assess last year's pledges. In announcing Operation Collection Protection, a coordinated federal-state-local initiative to take on illegal debt collection practices, we made two promises: 1) to continue our commitment in the courtroom, if necessary; and 2) to foster close working relationships with law enforcement partners across the country. Here's what we have to report.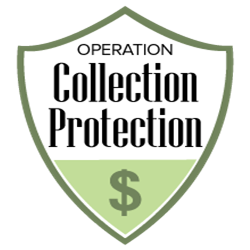 On the law enforcement front, for 2015-16, the FTC took 20 significant actions against unlawful debt collection outfits, many of which involved tangled webs of corporate affiliates. Add the actions brought by Operation Collection Protection's 70 law enforcement and regulatory partners, and the total comes to 165.
But won't bad apples just set up shop under different names? No, because 44 of them were added to the Dishonor Roll – the FTC's Banned Debt Collectors List. To date, a total of 139 individuals and companies have been banned from the debt collection industry. By "banned," we mean shuttered, finished, kaput. For how long? Forever. And these aren't just pinky promises. The orders putting those bans in place are enforceable in court.
Speaking of court, judges granted FTC Motions for Summary Judgment in three noteworthy cases in 2016:
Commercial Recovery Systems. The FTC alleged that the defendants falsely claimed they would sue debtors, garnish their wages, levy their bank accounts, or seize their property unless the debts were paid, in violation of the Fair Debt Collection Practices Act. A federal judge in Texas entered summary judgment against CRS and corporate officer Timothy Ford. Co-defendant David Devany settled with the FTC.
The Primary Group.  According to the complaint, the defendants barraged consumers with illegal texts, email, and phone calls, falsely threatening them with arrest or lawsuits if they didn't pay up. A federal judge in Georgia granted the FTC's summary judgment motion against the corporation and CFO Gail Daniels, imposing a $980,000 judgment.
Federal Check Processing.  The FTC charged Mark Briandi, William Moses, and 13 related corporations with violating the FTC Act and the FDCPA by pretending to be affiliated with the government, falsely accusing consumers of committing check fraud, and threatening to have them arrested or sued. A federal court in Buffalo ruled in the FTC's favor and ordered the defendants to pay almost $11 million.
Where will you now find Ms. Daniels, Messrs. Ford, Devany, Briandi, and Moses, and their companies? On the FTC's Banned Debt Collectors List.
The three summary judgment orders offer an important insight into the FTC's approach. If we can reach a settlement that appropriately addresses the allegations in the complaint and puts protections in place for the future, great. But if defendants want their day in court, we'll meet 'em there.
State law enforcers have been busy, too. The victories they won on behalf of consumers are too numerous to list, so here are just a few examples. In Massachusetts, the Attorney General got a settlement requiring Family Dermatology of Pennsylvania to write off $1 million in supposed debts and to repay Massachusetts consumers who paid money they didn't owe. The Ohio AG sued Rotech Holdings over illegal collection practices. In addition to paying $34,900, the company will have to bid buh-bye to collecting debts in the Buckeye State. And National Credit Adjusters will be adjusting its practices, thanks to a lawsuit by the New York Department of Financial Services. The company, which had collected on illegal payday loans, must refund nearly $725,000 to 3,000 New Yorkers, discharge $2.26 million in debts, and pay the State $200,000.
Industry members committed to compliance can bookmark the FTC's Debt Collection page. Cases appear under the Legal Resources column on the right.
It is your choice whether to submit a comment. If you do, you must create a user name, or we will not post your comment. The Federal Trade Commission Act authorizes this information collection for purposes of managing online comments. Comments and user names are part of the Federal Trade Commission's (FTC) public records system, and user names also are part of the FTC's computer user records system. We may routinely use these records as described in the FTC's Privacy Act system notices. For more information on how the FTC handles information that we collect, please read our privacy policy.
The purpose of this blog and its comments section is to inform readers about Federal Trade Commission activity, and share information to help them avoid, report, and recover from fraud, scams, and bad business practices. Your thoughts, ideas, and concerns are welcome, and we encourage comments. But keep in mind, this is a moderated blog. We review all comments before they are posted, and we won't post comments that don't comply with our commenting policy. We expect commenters to treat each other and the blog writers with respect.
We won't post off-topic comments, repeated identical comments, or comments that include sales pitches or promotions.
We won't post comments that include vulgar messages, personal attacks by name, or offensive terms that target specific people or groups.
We won't post threats, defamatory statements, or suggestions or encouragement of illegal activity.
We won't post comments that include personal information, like Social Security numbers, account numbers, home addresses, and email addresses. To file a detailed report about a scam, go to ReportFraud.ftc.gov.
We don't edit comments to remove objectionable content, so please ensure that your comment contains none of the above. The comments posted on this blog become part of the public domain. To protect your privacy and the privacy of other people, please do not include personal information. Opinions in comments that appear in this blog belong to the individuals who expressed them. They do not belong to or represent views of the Federal Trade Commission.
More from the Business Blog
Get Business Blog updates