The operators of a student loan debt relief scam have agreed to settle Federal Trade Commission charges that they bilked millions from consumers by falsely claiming to enroll consumers in loan forgiveness programs, for which they charged up to $1,000 in illegal upfront fees.
The five settlements are part of a coordinated federal-state law enforcement initiative targeting deceptive student loan debt relief scams announced by the FTC in October 2017, called Operation Game of Loans.
The settlements are with the following individual defendants and their associated companies:
The Commission obtained default judgments against two more corporate defendants, Elite Doc Prep, LLC (also doing business as Premier Student Aid) [Default Judgment], and Elite Consulting Service, LLC (also doing business as First Grad Aid) [Default Judgment].
FTC's Complaint
The FTC alleged in its complaint that the defendants deceptively telemarketed their document preparation service by misrepresenting an affiliation with the Department of Education or consumers' loan servicers, and that consumers who paid defendants an up-front fee were qualified for or approved to receive permanently reduced monthly payments or their student loans would be forgiven or discharged. The defendants used deceptive advertisements on Facebook and other social media that touted their ability to qualify, establish eligibility for, approve, or enroll consumers in loan forgiveness programs, when, in fact, only the Department of Education can qualify or enroll consumers in such programs.
Conditions of the Settlement
Under the settlement orders, the defendants are banned permanently from engaging in any type of debt relief activities and from making misrepresentations related to financial or any other products or services.
The proposed and final orders include a total of over $19 million in monetary judgments, all of which are partially suspended due to the defendants' inability to pay the full judgment amounts. The defendants' combined unsuspended payments total over $5 million, which will be made available for consumer redress. The full judgments will become due immediately if the defendants are found to have misrepresented their financial condition.
The Commission vote approving the stipulated final orders in this matter was 5-0. The U.S. District Court for the Central District of California entered the orders against defendants Ratliff and Reuveni and Reuveni's companies on August 8, 2018, against defendants Azinkhan and Rubeni and Rubeni's companies on August 9, 2018, and against defendant Gabbaie and his companies on September 5, 2018. Default judgments against two of the corporate defendants, Elite Doc Prep, LLC and Elite Consulting Service, LLC, were also entered September 5, 2018. The Commission filed the stipulated final order with Benjamin Naderi and his companies on September 24, 2018.
How to Avoid Student Loan Debt Relief Scams
To help consumers avoid falling victim to such fraud, the FTC has updated its consumer education related to student loan debt relief scams at ftc.gov/StudentLoans.
Consumers should remember that only scammers promise fast loan forgiveness, and that scammers often pretend to be affiliated with the government. And consumers should never pay an upfront fee for help, and should not share their FSA ID—a username and password used to log in to U.S. Department of Education websites—with anyone.
Consumers can apply for loan deferments, forbearance, repayment, and forgiveness or discharge programs directly through the U.S. Department of Education or their loan servicer at no cost; these programs do not require the assistance of a third-party company or payment of application fees. For federal student loan repayment options, visit StudentAid.gov/repay. For private student loans, contact the loan servicer directly.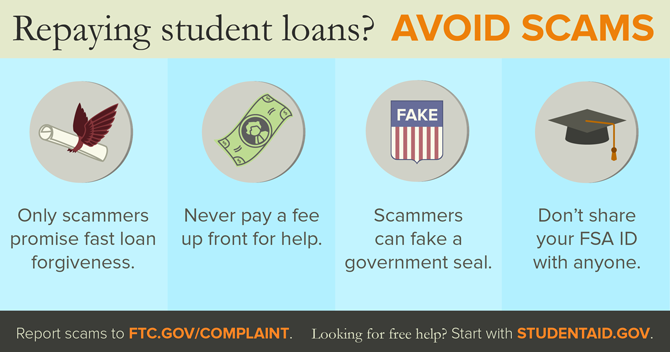 The Federal Trade Commission works to promote competition, and protect and educate consumers. You can learn more about consumer topics and file a consumer complaint online or by calling 1-877-FTC-HELP (382-4357). Like the FTC on Facebook, follow us on Twitter, read our blogs, and subscribe to press releases for the latest FTC news and resources.
Contact Information
CONTACT FOR CONSUMERS:
Consumer Response Center
877-382-4357
MEDIA CONTACT:
Juliana Gruenwald Henderson
Office of Public Affairs
202-326-2924
Nicole Jones
Office of Public Affairs
202-326-2565
STAFF CONTACT:
Nadine Samter
FTC Northwest Region
206-220-4479