Many people – including older consumers – find themselves tied to pricey timeshares that no longer meet their needs. They were sold on the idea of idyllic getaways, but now need to get away from those getaways. Enter the timeshare exit industry. The concern, however, is when operators claim they can get people out of their timeshare contracts, but promise more than they deliver, often leaving consumers in an even deeper financial hole. A case filed by the Department of Justice on behalf of the FTC and by the Wisconsin Attorney General alleges that a Missouri-based outfit called Square One Development Group and a variety of affiliates and individuals have use deceptive and unfair practices to take approximately $90 million from consumers desperate to exit their timeshare contracts.
Image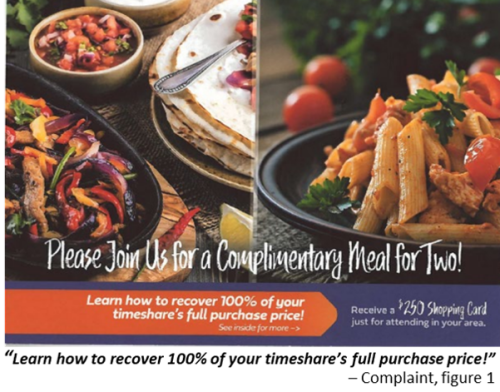 Using glossy mailers, the defendants have invited timeshare owners to in-person "information sessions" at local hotels or restaurants where they will supposedly "Learn how to recover 100% of your timeshare's full purchase price." What's on the menu? According to the FTC and the Wisconsin Attorney General, sales promotions and one-on-one pitches claiming the defendants will get people out of their timeshare contacts generally within a year or two and will recover 100% of the consumer's timeshare purchase price – for a fee, of course.
To fill the seats, the defendants advertise that "representatives from Consumer Law Protection will explain all of your rights regarding timeshare ownership." And who or what is "Consumer Law Protection"? The defendants say they're "accredited by the Consumer Rights Council (CRC), an independent advocacy organization dedicated to helping timeshare owners who are looking to safely cancel or exit their timeshares . . . ."  At the sessions, the defendants characterize themselves as "Proud Partners" of well-known timeshare companies. The defendants also tout an affiliation with the Better Business Bureau. The bottom line is that in their sales pitches and contracts, the defendants promise this: "Consumer Law guarantees our Service – we will get You out of Your timeshare or we will give You a complete and full refund."
That's what people eager to unburden themselves of timeshares are told, but the complaint suggests a much different story. The FTC and Wisconsin AG allege that even when consumers pay fees ranging from $5,000 to over $80,000, the defendants generally don't get them out of their timeshare contracts and don't recover 100% of their timeshare purchase price. When consumers try to get an update on the status of their case, the defendants' Call Center employees often put them off by saying the matter is "with legal" or that COVID is delaying timeshare exits. But according to the FTC and Wisconsin AG, "In reality, Defendants simply were doing very little, if anything, to get consumers out of their timeshare contracts, regardless of COVID." What's more, the complaint alleges that in numerous instances, the defendants don't honor their refund guarantees.
But what about that accreditation by the "Consumer Rights Council"? According to the complaint, it's a sham nonprofit set up by the defendants for the sole purpose of making themselves look legit. Also alleged as bogus: those purported partnerships or affiliations with major names in the timeshare industry and the Better Business Bureau.
The complaint – which names Square One Development Group, Consumer Law Protection, LLC, Consumer Rights Council, Premier Reservations Group, LLC, Resort Transfer Group, LLC, Timeshare Help Source, and others – alleges multiple violations of federal and state law, including the FTC Act, the Cooling-Off Rule, the Wisconsin Direct Marketing Rule, and the Wisconsin Fraudulent Misrepresentation Law. Another count that merits attention: the allegation that the defendants "high pressure tactics and deceptive sales practices" are unfair practices, in violation of the FTC Act.
The case is pending in federal court in Missouri. Even at this early stage, it offers takeaways that apply beyond the timeshare arena.
Established federal and state consumer protection laws apply to the timeshare exit industry. Many consumers are struggling to make their timeshare payments. If you say you can help them exit their timeshares or get some or all of their money back, you need proof to back up your claims and you must follow through on those promises. That same long-standing principle applies to other promotions targeting consumer in financial distress.
Avoid affiliation misrepresentation. Companies cross the line when they attempt to hide their allegedly illegal practices behind "consumer friendly" names or vocabulary or by touting a false connection with other businesses or organizations.
Honor your refund promises. Especially when consumers are on the fence about making a purchase, the assurance of a money-back guarantee is a highly material representation. That's why the FTC and State AGs have brought so many cases challenging the tactics of companies that talk a good refund game, but don't make good on their promises.
United we stand. State and federal law enforcers are united in the fight against deceptive practices. This case is just the latest in a long line of cooperative actions aimed at protecting America's consumers.
It is your choice whether to submit a comment. If you do, you must create a user name, or we will not post your comment. The Federal Trade Commission Act authorizes this information collection for purposes of managing online comments. Comments and user names are part of the Federal Trade Commission's (FTC) public records system, and user names also are part of the FTC's computer user records system. We may routinely use these records as described in the FTC's Privacy Act system notices. For more information on how the FTC handles information that we collect, please read our privacy policy.
The purpose of this blog and its comments section is to inform readers about Federal Trade Commission activity, and share information to help them avoid, report, and recover from fraud, scams, and bad business practices. Your thoughts, ideas, and concerns are welcome, and we encourage comments. But keep in mind, this is a moderated blog. We review all comments before they are posted, and we won't post comments that don't comply with our commenting policy. We expect commenters to treat each other and the blog writers with respect.
We won't post off-topic comments, repeated identical comments, or comments that include sales pitches or promotions.
We won't post comments that include vulgar messages, personal attacks by name, or offensive terms that target specific people or groups.
We won't post threats, defamatory statements, or suggestions or encouragement of illegal activity.
We won't post comments that include personal information, like Social Security numbers, account numbers, home addresses, and email addresses. To file a detailed report about a scam, go to ReportFraud.ftc.gov.
We don't edit comments to remove objectionable content, so please ensure that your comment contains none of the above. The comments posted on this blog become part of the public domain. To protect your privacy and the privacy of other people, please do not include personal information. Opinions in comments that appear in this blog belong to the individuals who expressed them. They do not belong to or represent views of the Federal Trade Commission.
More from the Business Blog
Get Business Blog updates