"$1 gets you out of your current loan or lease!" According to Trophy Nissan in the Dallas area, consumers could end their loan or lease for a buck – less than the cost of one of those air fresheners hanging from the rearview mirror. Trophy also promised to "match your tax refund so you can use it for a down payment!" Those are just two of the claims the FTC challenged as deceptive in a proposed settlement with the dealership. If you have clients in the automotive industry, make sure they're up to speed on this case and other recent law enforcement actions concerning car advertising.
One of Trophy Nissan's TV ads featured a spokesperson waving a dollar as he said, "Stuck with a high car payment? Owe more on your vehicle than it's worth? Trophy Nissan can set you free for a buck! During our Nissan Now event, you can get out of your current loan or lease for just $1.00." Consumers wearing their reading glasses might – or might not – have caught a fine-print super, a portion of which was similar in color to the background. It read "With Approved Credit.  Any Negative Equity applied to new loan. Offer ends [unreadable]. See dealer for details." Ads on Trophy's Facebook and Twitter pages made the $1 claim with no additional terms or conditions – fine print or otherwise.
Image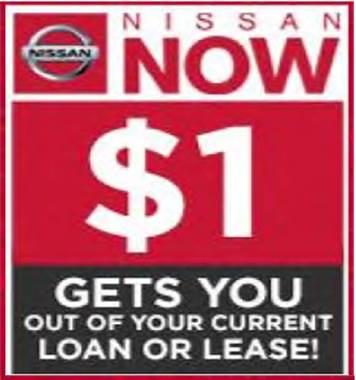 According to the FTC, what Trophy didn't clearly disclose was that the deal would end up costing people way more than a dollar. Consumers with outstanding loan balances on trade-ins would still have to pay every penny they owed on that loan. And consumers with leases were liable for any lease termination fees. So much for Trophy's $1 claim.
What about the "Max your Tax" promotion? A statement at the bottom of the ad revealed in tiny type that Trophy would match tax refunds only up to $1000.
The FTC's lawsuit also challenges ads that used big print to offer eye-catching lease prices while burying important terms and conditions in fine print or failing to disclose required information. For example, one ad that ran in a Spanish-language newspaper touted a $100 lease for a Nissan Sentra S. But buried at the bottom in tiny type – and in English – was the fact that consumers would have to pay $3,264 up front.
The five-count complaint alleges multiple violations of Section 5 of the FTC Act. In addition, the FTC says Trophy used certain triggering terms under the Consumer Leasing Act, but then didn't clearly and conspicuously disclose key information required by the CLA and Reg M. The lawsuit also charges that the dealership included Truth in Lending Act triggering terms, but failed to clearly disclose information mandated by TILA and Reg Z.
If you or your clients offer consumer financing, is it time for a credit check? Among other things, the complaint offers businesses a reminder of some of the terms that trigger the legal obligation to clearly and conspicuously disclose certain information.
You can file online comments by January 22, 2015.
More from the Business Blog
Get Business Blog updates