Even the savviest consumers can be at their most vulnerable when making final arrangements for a loved one. They have to make quick decisions – often choices with major financial implications – while grieving the death of someone close to them. In a lawsuit filed on the FTC's behalf by the Department of Justice, the FTC alleges that Colorado- and North Carolina-based Legacy Cremation Services, also doing business as Heritage Cremation Provider, Funeral & Cremation Group of North America, LLC, and owner Anthony Joseph Damiano targeted grieving consumers with practices that violated the FTC Act and the Funeral Rule – including misrepresenting themselves as local providers and charging people substantially higher prices than advertised. According to the complaint, the defendants' response to many consumers who contested those charges was particularly egregious.
Image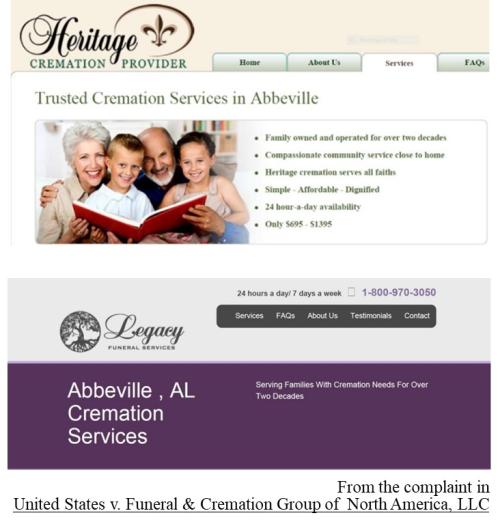 When looking to make arrangements after the loss of a loved one, many consumers start with an online search for providers in the deceased's community. Location is a key criteria so family members and friends can attend memorial services or viewings without traveling a long way. The complaint uses the example of a person conducting an online search for cremation services in Abbeville, Alabama. When consumers click the Defendants' links, they're taken to a page titled "Trusted Cremation Services in Abbeville" that claims to offer "compassionate community service close to home."
That's what the page says, but according to the FTC, the defendants have optimized search results and designed landing pages to leave people with the false impression that they have a physical location or provide funeral or cremation services in that requested town and many others when, in fact, they don't.
The FTC says the defendants have engaged in other practices that inflict injury on grieving loved ones. For example, if people call to ask if they're a local business, the defendants have allegedly misled consumers either by claiming to be a local establishment or by saying that they work with crematories in the town where consumers are seeking services. In fact, the complaint alleges that in many instances, the defendants contract with third-party providers located an hour or more away from the advertised town. Furthermore, when consumers want to ascertain the location of their loved one's remains, the FTC alleges the defendants have often refused to give them the name and location of the third-party provider. What's more, the complaint cites the defendants' customer service scripts that direct their employees not to provide that information until after the consumer has paid.
You'll want to read the complaint for the FTC's allegations about how the defendants have deceived people about price, but the gist is that despite express representations like "from $695" or quotes for "all-inclusive" packages, the defendants often pile on multiple fees and charges that substantially hike the cost.
What happens when consumers balk at the increased price? The complaint cites three tactics the defendants have employed in response: They have withheld the death certificate, they have added even more charges if frustrated consumers decide to do business with another company – and they even have withheld the cremated remains of the consumer's loved one unless and until the person pays the new, higher price.
In addition to alleging unfair and deceptive practices in violation of the FTC Act, the complaint charges the defendants with violating the Funeral Rule by failing to provide accurate price information over the phone, failing to provide statements of funeral goods and services that include the total cost, and failing to reveal that the price charged for cash advance items wasn't the cost to the defendants.
The complaint, which is pending in federal court in Florida, seeks a permanent injunction, civil penalties for violations of the Funeral Rule, and monetary relief.
The Funeral Rule has been in place since 1984 and was last amended in 1994. So providers of funeral and cremation services can hardly claim to be unaware of practices the Rule has prohibited for decades. Also, industry members are subject to the same long-standing consumer protection principles that apply to any other business. Considering a compliance check? The FTC has resources for companies in the funeral industry.
It is your choice whether to submit a comment. If you do, you must create a user name, or we will not post your comment. The Federal Trade Commission Act authorizes this information collection for purposes of managing online comments. Comments and user names are part of the Federal Trade Commission's (FTC) public records system, and user names also are part of the FTC's computer user records system. We may routinely use these records as described in the FTC's Privacy Act system notices. For more information on how the FTC handles information that we collect, please read our privacy policy.
The purpose of this blog and its comments section is to inform readers about Federal Trade Commission activity, and share information to help them avoid, report, and recover from fraud, scams, and bad business practices. Your thoughts, ideas, and concerns are welcome, and we encourage comments. But keep in mind, this is a moderated blog. We review all comments before they are posted, and we won't post comments that don't comply with our commenting policy. We expect commenters to treat each other and the blog writers with respect.
We won't post off-topic comments, repeated identical comments, or comments that include sales pitches or promotions.
We won't post comments that include vulgar messages, personal attacks by name, or offensive terms that target specific people or groups.
We won't post threats, defamatory statements, or suggestions or encouragement of illegal activity.
We won't post comments that include personal information, like Social Security numbers, account numbers, home addresses, and email addresses. To file a detailed report about a scam, go to ReportFraud.ftc.gov.
We don't edit comments to remove objectionable content, so please ensure that your comment contains none of the above. The comments posted on this blog become part of the public domain. To protect your privacy and the privacy of other people, please do not include personal information. Opinions in comments that appear in this blog belong to the individuals who expressed them. They do not belong to or represent views of the Federal Trade Commission.
More from the Business Blog
Get Business Blog updates