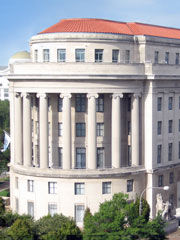 The FTC reviews all its rules and guides on a 10-year cycle to ensure they are up-to-date, effective, and not overly burdensome. To foster public participation and transparency, the FTC launched a regulatory review web page, a one-stop shop for the public to get information and comment on rules under review. Nearly a third of the Commission's rules and guides are under review in 2012.
The Commission revised its Part III rules in 2009 to ensure that administrative litigation is not time-consuming or burdensome, and made further improvements in 2011. New timelines for discovery, motions practice, trial, and decision-making result in a faster-paced administrative process, especially in merger cases. A notable example is the ProMedica hospital merger case, where the Commission issued a complaint, the case was tried, and the Administrative Law Judge issued his Initial Decision within 11 months. The FTC proposed changes to its Part II Rules to keep pace with changes in electronic discovery and improve the agency process for resolving disputes during the investigatory phase.
The agency streamlined the process for approving divestitures by waiving the prior-approval requirement for modifications that do not conflict with the Commission's order and, with DOJ, made improvements to the Hart-Scott-Rodino premerger notification form.
The FTC and the new Consumer Financial Protection Bureau signed an MOU to share information and coordinate enforcement and regulatory efforts, among other activities, to ensure that policies and activities are consistent, well-informed, and not duplicative.
The FTC's Criminal Liaison Unit (CLU) works with federal and state criminal prosecutors to send recalcitrant FTC defendants to prison. In the last year, criminal authorities have charged 42 FTC defendants and their associates with crimes; 29 have been convicted or pled guilty, and received sentences totaling more than 168 years. Since its inception in 2002, the CLU program has led to more than 400 prosecutions, including charges against fraudulent telemarketers, marketers of bogus cures, sweepstakes scammers, and internet con artists.
Policy Highlights
Outreach Highlights
Increasing communication with citizens: new options to receive email updates from the FTC including press releases and blog updates.
Launch of our Spanish Twitter account: @laFTC