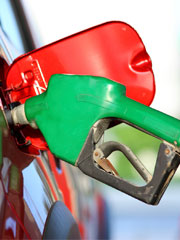 Few issues are as important to consumers as the cost of gas for their cars, and the price they pay to heat, cool, and light their homes. The FTC keeps a weather eye on energy markets, closely scrutinizes mergers and acquisitions in the energy sector, and monitors environmental marketing to make sure it is truthful and based on solid scientific evidence.
The FTC challenged an acquisition of terminal and pipeline assets, charging that it would lead to higher gasoline and diesel fuel prices in Maine. The Commission also required two of the nation's largest propane distributors to carve out overlapping assets to preserve competition for propane exchange cylinders used for backyard barbeque grills.
The FTC opened an investigation into pricing anomalies among gasoline refiners; issued a report on the key factors that influence gas prices; and tracked daily wholesale and retail gasoline and diesel price data to identify anticompetitive activities. The FTC and the Commodity Futures Trading Commission signed an MOU to facilitate information sharing in investigations in petroleum and other markets.
On the home front, five window marketers settled FTC charges that they made deceptive energy efficiency and cost-saving claims about their products. The Commission also took action against retailers who allegedly failed to post requiredEnergyGuide information on their websites about major home appliances; and reached a settlement that stops marketers from making bogus claims that their fuel device could boost automobile gas mileage by at least 50 percent. The FTC sought public comments on proposed changes to its Appliance Labeling Rule, which requires energy efficiency labels for major household appliances and other consumer products.
Enforcement Highlights
Policy Highlights
Outreach Highlights