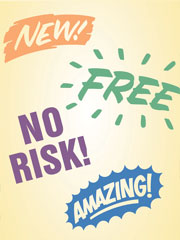 The FTC monitors advertising in all media, and has successfully challenged a number of deceptive claims about disease prevention and health promotion.
The Commission recently challenged claims that Oreck vacuum cleaners and air purifiers prevented the flu; that certain Reebok shoes toned and strengthened lower body muscles; and that Nivea My Silhouette! skin cream reduced users' body size. Each of these cases resulted in settlements that require the companies to refund money to consumers who bought their products: Reebok, for example, will refund $25 million.
The FTC polices the internet for deceptive ads, and recently brought a slew of cases involving questionable advertising techniques. In one recent sweep, the Commission filed 10 lawsuits against online marketers, alleging that they created fake news sites where they posted phony testimonials touting acai berry supplements as effective weight-loss products.
The FTC also stopped several fraudulent online negative option schemes, obtaining settlements banning their operators from marketing negative option programs and requiring them to surrender assets. Cases against Jesse Willms and Michael Bruce Moneymaker, both of whom allegedly charged consumers recurring fees without first getting their consent, were significant wins for consumers.  
In Millenium Telecard, the FTC challenged a company that sold prepaid phone cards — many to immigrants who used them to call overseas — with allegedly false and deceptive claims about the number of minutes of talk time and fees that reduced the value of the cards.
Enforcement Highlights
Policy Highlights
Outreach Highlights