A lot has been said about changes to the marketplace spurred by the gig economy, but some things remain constant, including established truth-in-advertising principles. Amazon told delivery drivers in its Amazon Flex program – as well as customers who placed orders through services like Prime Now and AmazonFresh – that 100% of tips would go directly to the drivers. But according to an FTC lawsuit, for a period of more than two years, Amazon secretly pocketed over $61 million of those tips. The FTC has announced a proposed settlement that will hold the company to its promises by returning the entire $61.7 million to Amazon Flex drivers.
In 2015, Amazon launched Amazon Flex, a service through which people can sign up as delivery drivers. Categorizing drivers as independent contractors, Amazon paid them a flat rate based on the number of deliveries made within an allotted time. But for services like Prime Now and AmazonFresh, the company told prospective drivers they also would get customers' tips and touted the extra money as a benefit of making those deliveries.
For example, in the FAQ section of the required Amazon Flex App, the company claimed, "For Prime Now, AmazonFresh, and store deliveries, the customer can choose to tip. You will receive 100% of the tips you earn while delivering with Amazon Flex." In its Terms of Service, Amazon reinforced that message: "Amazon will pass through any tips payable to you."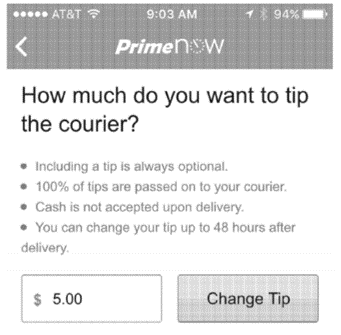 What's more, Amazon conveyed that same message to customers. During the check-out process for eligible orders, Amazon told customers that "100% of tips are passed on to your courier." Amazon was clear that direct cash payments weren't allowed. So the only choice for a customer who wanted to tip the driver was to include the tip as part of the Amazon-controlled check-out process.
At the start of the Amazon Flex program, the company paid drivers at least $18 per hour plus 100% of customer tips. But in late 2016, the FTC says Amazon made secret changes to the program without telling drivers or customers. Rather than passing 100% of tips on to drivers, Amazon pocketed about a third of each tip to offset the guaranteed minimum Amazon promised to drivers. As the complaint explains it, "[F]or a one-hour block offering $18-$25, if Amazon's base rate in the particular location was $12, and the customer left a $6 tip for the driver, then Amazon paid the driver only $12 and used the full customer tip of $6 to reach its minimum payment of $18 to the driver." In other words, despite representations to drivers and customers, Amazon took a sizable portion of the tips customers expressly earmarked for drivers and used the money to reduce its own labor costs.
You'll want to read the complaint for details, but the FTC alleges that Amazon took steps to conceal its change in policy. Amazon didn't tell drivers about the change to their compensation and continued to tell them and customers that 100% of tips would go to drivers. According to the FTC, one step Amazon took to hide its conduct was to stop separately listing drivers' tips and instead reported their earnings as a single lump sum.
When drivers began to suspect what was going on and complained to Amazon, the company responded with a canned email answer that it was providing drivers with "100% of customer tips," without explaining it was actually paying drivers less than promised and making up the difference with their tips. As drivers took to social media to voice their concerns, the issue became a topic of internal discussion at the company, with employees describing it as "a huge PR risk for Amazon" that created "an Amazon reputation tinderbox." All the while Amazon represented to customers that "100% of tips are passed on to your courier." According to the lawsuit, Amazon continued these practices for over two and a half years, changing its conduct only after the FTC opened its investigation.
In addition to the $61,710,583 financial remedy which the FTC will use to compensate eligible drivers, the proposed settlement prohibits Amazon from misrepresenting – among other things – what it will pay drivers, what a driver is likely to earn, and the percentage or amount of customer tips a driver will receive. In addition, Amazon can't change the extent to which the company uses drivers' tips toward what Amazon pays them without first getting drivers' express informed consent.
Once the proposed settlement appears in the Federal Register, the FTC will accept public comments for 30 days. In addition, Amazon drivers can sign up for email updates on the status of the refund process.
What can other companies take from the case?
When advertising gig opportunities at your business, be transparent about material terms. Explain up front important information about pay, tips etc. If you change the nature of the deal, be clear about that, too. Concealing what's going on behind the scenes is an unwise strategy.
Substantiate your claims – express or implied – about tipping. In addition to deceptive claims pitched to drivers, Amazon misled customers by stating that "100% of tips are passed on to your courier." How would customers have responded if Amazon had told them the truth: "We siphon off 30% to cover our costs and pass on what's left to your courier"? Like other objective claims about product attributes, performance, or price, companies also must live up to their representations about tipping policies and practices.

 
It is your choice whether to submit a comment. If you do, you must create a user name, or we will not post your comment. The Federal Trade Commission Act authorizes this information collection for purposes of managing online comments. Comments and user names are part of the Federal Trade Commission's (FTC) public records system, and user names also are part of the FTC's computer user records system. We may routinely use these records as described in the FTC's Privacy Act system notices. For more information on how the FTC handles information that we collect, please read our privacy policy.
The purpose of this blog and its comments section is to inform readers about Federal Trade Commission activity, and share information to help them avoid, report, and recover from fraud, scams, and bad business practices. Your thoughts, ideas, and concerns are welcome, and we encourage comments. But keep in mind, this is a moderated blog. We review all comments before they are posted, and we won't post comments that don't comply with our commenting policy. We expect commenters to treat each other and the blog writers with respect.
We won't post off-topic comments, repeated identical comments, or comments that include sales pitches or promotions.
We won't post comments that include vulgar messages, personal attacks by name, or offensive terms that target specific people or groups.
We won't post threats, defamatory statements, or suggestions or encouragement of illegal activity.
We won't post comments that include personal information, like Social Security numbers, account numbers, home addresses, and email addresses. To file a detailed report about a scam, go to ReportFraud.ftc.gov.
We don't edit comments to remove objectionable content, so please ensure that your comment contains none of the above. The comments posted on this blog become part of the public domain. To protect your privacy and the privacy of other people, please do not include personal information. Opinions in comments that appear in this blog belong to the individuals who expressed them. They do not belong to or represent views of the Federal Trade Commission.
More from the Business Blog
Get Business Blog updates