A Georgia-based distributor of water filtration systems has agreed to pay a $110,000 civil penalty to settle Federal Trade Commission charges that it violated a 2017 Federal Trade Commission administrative order by making false claims that wholly imported Chinese water filtration systems were made in the United States.
As part of the settlement, the defendants have admitted that in March 2018, iSpring Water Systems, LLC, along with company owner and officer Zhuangyong Chen and company vice president Pearl Cai, began making false claims that the water filtration systems it sells are "designed and crafted in USA," among other claims.
"People should be able to trust a company's claim that its products are made in the United States," said Andrew Smith, Director of the FTC's Bureau of Consumer Protection. "This company is paying the price of abusing that trust and violating an FTC order."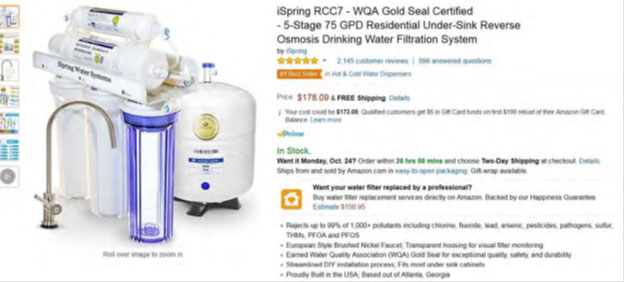 The FTC's 2017 complaint against iSpring alleged that the company deceived consumers with false, misleading, or unsupported claims that its water filtration systems and parts are "Built in USA," "Built in USA Legendary brand of water filter," and "Proudly Built in the USA." In fact, according to the complaint, iSpring's products either are wholly imported or are made using a significant amount of inputs from overseas.
In addition to the civil penalty, the proposed order contains an admission of liability and requires the defendants to notify affected consumers about the case.
The FTC's Enforcement Policy Statement on U.S. Origin Claims provides further guidance on the Made in USA standard.
The Commission vote to refer the complaint to the Department of Justice and to approve the proposed stipulated order was 5-0. Commissioners Noah Joshua Phillips and Christine S. Wilson issued a joint statement. The DOJ filed the documents on behalf of the Commission in the U.S. District Court for the Northern District of Georgia on April 10, 2019.
NOTE: Stipulated final orders have the force of law when approved and signed by the District Court judge.
The Federal Trade Commission works to promote competition, and protect and educate consumers. You can learn more about consumer topics and file a consumer complaint online or by calling 1-877-FTC-HELP (382-4357). Like the FTC on Facebook, follow us on Twitter, read our blogs, and subscribe to press releases for the latest FTC news and resources.
Contact Information
CONTACT FOR CONSUMERS:
Consumer Response Center
877-382-4357
MEDIA CONTACT:
Betsy Lordan
Office of Public Affairs
202-326-3707
STAFF CONTACT:
Julia Solomon Ensor
Bureau of Consumer Protection
202-326-2377