The Federal Trade Commission is hosting small business owners in a series of public roundtables across the United States to discuss the most pressing challenges small businesses face in protecting the security of their computers and networks.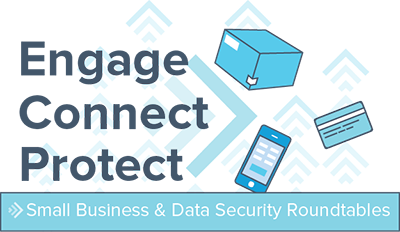 The Engage, Connect, and Protect Initiative: Small Business and Data Security Roundtables are part of an ongoing initiative by Acting FTC Chairman Maureen K. Ohlhausen aimed at helping small businesses, which included the launch of a new website in May focused on helping small business owners avoid scams and protect their computers and networks from cyberattacks. There are more than 28 million small businesses nationwide, employing nearly 57 million people, according to the Small Business Administration (SBA).
"The FTC has been a leader in guiding businesses of all sizes on how to protect the data in their care," Acting Chairman Ohlhausen said. "Companies with only a few employees face unique challenges when it comes to cybersecurity. We'll use what we learn in the roundtables to tailor our practical resource materials for small businesses."
The first roundtable event will take place July 25 in Portland, Oregon, in partnership with the National Cyber Security Alliance (NCSA), the SBA, and other organizations. This event will be followed by a roundtable discussion in Cleveland, Ohio, on September 6, hosted by the FTC and the Council of Smaller Enterprises and in collaboration with the SBA. Another roundtable event will take place later in September in Des Moines, Iowa, sponsored by the NCSA.
The roundtables will bring together FTC staff along with the SBA and other federal partners, industry associations, and the small business community. The comments and feedback generated by the roundtables will be used to help the FTC and its partners provide additional education and guidance for small business owners on cybersecurity issues.
Small business owners also can provide feedback on cybersecurity issues they face by emailing smallbizcyber@ftc.gov. Find out more about some of the questions the roundtables will explore on the FTC's Business Blog.
The Federal Trade Commission works to promote competition, and protect and educate consumers. You can learn more about consumer topics and file a consumer complaint online or by calling 1-877-FTC-HELP (382-4357). Like the FTC on Facebook, follow us on Twitter, read our blogs and subscribe to press releases for the latest FTC news and resources.