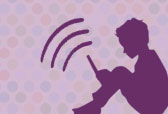 It's no secret that today's children increasingly use the Internet for entertainment, information and schoolwork. The Children's Online Privacy Protection Act (COPPA) and the FTC's COPPA Rule protect children's privacy when they're online by putting their parents in charge of who gets to collect personal information about their preteen kids. The FTC enforces COPPA by ensuring that parents have the tools they need to protect their childrens' privacy.
The Commission amended its COPPA Rule to broaden and clarify the Rule's notice and consent requirements in light of fast-paced technological changes since the rule was issued. In addition, Artists Arena, the operator of fan websites for Justin Bieber, Rihanna, Demi Lovato, and Selena Gomez, agreed to pay $1 million and delete collected information to resolve charges that it violated COPPA and the FTC's COPPA Rule. The operator of the Path social networking app also settled charges that it violated privacy requirements, including violations of COPPA and the FTC's COPPA Rule.
The FTC issued its second staff report examining the privacy disclosures and practices of apps offered for children in the Google Play and Apple App stores. The Report found little progress toward giving parents the information they need to determine what data is being collected from their children, how it is being shared, or who will have access to it. The Report also found that many of the apps sent information to ad networks or other third parties without disclosing these practices to parents.
The FTC also issued a follow-up study of food and beverage industry marketing expenditures and activities directed to children and teens to gauge progress since the launch of self-regulatory efforts to promote healthier food choices to kids. The study found that industry self-regulation resulted in modest nutritional improvements from 2006 to 2009 within specific food categories heavily marketed to kids. The study also found that overall spending on marketing to youth was down 19.5 percent from 2006, while spending on marketing in new media (such as online, mobile, and viral marketing) increased by 50 percent.
Outreach Highlights
Consumer Education
Business Education
Twitter Chats