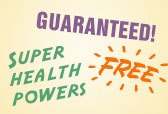 Consumers should get what they pay for. The FTC works to ensure that national advertisers can back up the claims they make for their products, especially health and safety claims.
The FTC recently upheld charges that POM Wonderful made false and unsupported health claims for its pomegranate juice and supplements. The Commission also filed false advertising charges against the marketers of Your Baby Can Read!, a program that promised to teach infants and babies to read. The agency settled with the company making the claims and its former CEO, and is litigating its case against the creator of the program. The FTC also obtained settlements with the marketers of the Ab Circle Pro exercise device and Skechers toning shoes, negotiating at least $55 million for consumer refunds.
The FTC led joint federal-state efforts in "Operation False Promises," filing lawsuits against scams that allegedly lured consumers with offers to help them start businesses. In addition, at the FTC's request, a federal court ordered the marketers of the John Beck "get-rich-quick" scam to pay $478 million, and banned these defendants from the telemarketing and informercial businesses. The FTC also led a major international crackdown against tech support scams involving telemarketers who allegedly tricked consumers into paying for the removal of bogus computer viruses and non-existent spyware. At the FTC's request, a federal court imposed a judgment of more than $163 million on the final defendant in the "Winfixer" scarewarecase where the defendants tricked consumers into thinking their computers were infected with malicious software in order to sell them software to "fix" their non-existent problem.
Outreach Highlights
Consumer Education
Business Education
Twitter Chats & Live Tweeting
Facebook Chats