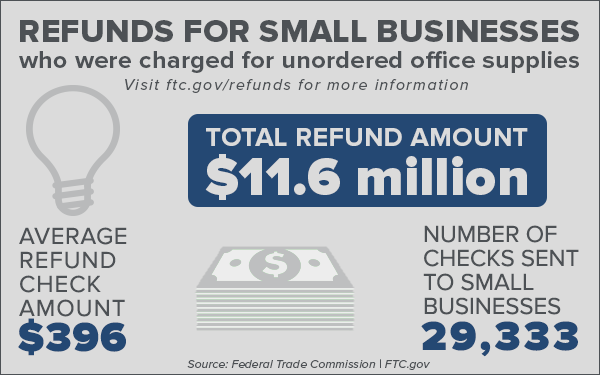 The Federal Trade Commission is mailing 29,333 refund checks totaling more than $11.6 million to small businesses and other organizations defrauded by a Maryland-based office supply operation that used names such as Midway Industries and Standard Industries. The FTC charged that the operation tricked companies and non-profits into paying for light bulbs and cleaning supplies they never ordered. The average check amount is $396.
In July 2014, the FTC filed a complaint alleging the defendants called organizations nationwide and falsely told them that they had previously done business with them; that the call was to confirm a shipping or mailing address or follow up on a supposed previous order; that they were offering a free sample, catalog or gift; or that they needed an employee's name and contact information for some purpose other than a sale.
Many people paid the defendants' invoices, thinking the employee named on the invoice had ordered the merchandise. Organizations that paid one invoice became targets for future shipments of unordered merchandise.
In the summer of 2016, the U.S. District Court for the District of Maryland entered settlement or default orders against all the defendants on the FTC charges. The orders barred them from the illegal conduct alleged in the complaint and imposed financial judgments, which the Commission is now using to provide refunds.
Epiq, the refund administrator for this matter, will begin mailing checks today. Recipients should cash their checks within 60 days, as indicated on the check. The FTC never requires consumers to pay money or provide information to cash refund checks. Consumers who have questions about the mailing should call 1-855-424-2580.
FTC law enforcement actions led to more than 2.3 billion in refunds for consumers in a one-year period between July 2017 and June 2018. To learn more about the FTC's refund program, visit www.ftc.gov/refunds.
The Federal Trade Commission works to promote competition, and protect and educate consumers. You canlearn more about consumer topics and file a consumer complaint online or by calling 1-877-FTC-HELP (382-4357). Like the FTC on Facebook, follow us on Twitter, read our blogs, and subscribe to press releases for the latest FTC news and resources.
Contact Information
MEDIA CONTACT:
Mitchell J. Katz
Office of Public Affairs
202-326-2161
CONSUMER REDRESS HOTLINE:
1-855-424-2580