The Federal Trade Commission has charged that Volkswagen Group of America, Inc. deceived consumers with the advertising campaign it used to promote its supposedly "clean diesel" VWs and Audis, which Volkswagen fitted with illegal emission defeat devices designed to mask high emissions during government tests. The FTC is seeking a court order requiring Volkswagen to compensate American consumers who bought or leased an affected vehicle between late 2008 and late 2015, as well as an injunction to prevent Volkswagen from engaging in this type of conduct again.
In a complaint filed in federal court, the FTC alleges that during this seven-year period Volkswagen deceived consumers by selling or leasing more than 550,000 diesel cars based on false claims that the cars were low-emission, environmentally friendly, met emissions standards and would maintain a high resale value. The cars sold for an average price of approximately $28,000.
"For years Volkswagen's ads touted the company's 'Clean Diesel' cars even though it now appears Volkswagen rigged the cars with devices designed to defeat emissions tests," said FTC Chairwoman Edith Ramirez. "Our lawsuit seeks compensation for the consumers who bought affected cars based on Volkswagen's deceptive and unfair practices."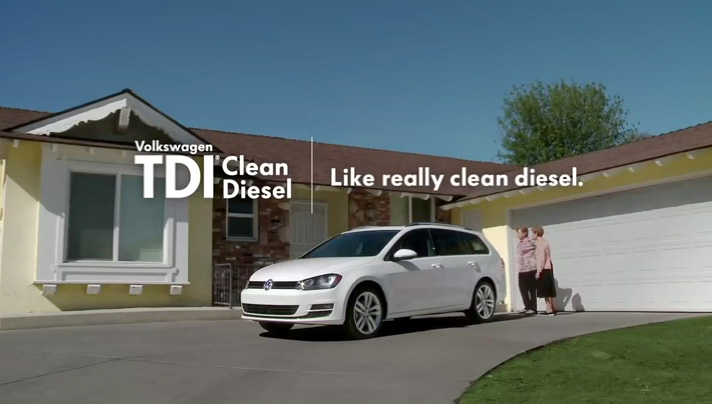 From Volkswagen's "Three Old Wives Talk Dirty" TV spot.
According to the FTC's complaint, Volkswagen promoted its supposedly "clean" cars through a high-profile marketing campaign that included Super Bowl ads, online social media campaigns, and print advertising, often targeting "environmentally-conscious" consumers.
For example, Volkswagen promotional materials repeatedly claimed that its "Clean Diesel" vehicles have low emissions, including that they reduce nitrogen oxides (NOx) emissions by 90 percent and have fewer such emissions than gasoline cars. In fact, the FTC's complaint states that they emit up to 4,000 percent more than the legal limit of NOx — a dangerous pollutant that contributes to environmental harms and respiratory ailments.
The complaint alleges that Volkswagen also claimed that "Clean Diesel" vehicles met "stringent emission requirements," were "50-state compliant," and would maintain a high resale value. Yet, according to the FTC's complaint, these claims were also false because without the illegally installed software, the "Clean Diesel" vehicles would not have passed federal emissions standards and the hidden defeat devices will significantly reduce the vehicles' resale value.
The FTC also charged that Volkswagen provided the means and instrumentalities for others to deceive consumers, and that installing the emissions defeat devices was an unfair practice.
The affected vehicles include 2009 through 2015 Volkswagen TDI diesel models of Jettas, Passats, and Touareg SUVs, as well as TDI Audi models. The suggested sale prices for the affected vehicles ranged from approximately $22,000 for the least-expensive Volkswagen model with a 2.0-liter engine to approximately $125,000 for the most-expensive Audi model with 3.0-liter engine.
The Commission vote authorizing the staff to file the complaint was 4-0. The complaint was filed in the U.S. District Court for the Northern District of California, San Francisco Division.
NOTE: The Commission files a complaint when it has "reason to believe" that the law has been or is being violated and it appears to the Commission that a proceeding is in the public interest. The case will be decided by the court.
The Federal Trade Commission works to promote competition, and protect and educate consumers. You can learn more about consumer topics and file a consumer complaint online or by calling 1-877-FTC-HELP (382-4357). Like the FTC on Facebook, follow us on Twitter, read our blogs and subscribe to press releases for the latest FTC news and resources.
Contact Information
MEDIA CONTACTS:
Peter Kaplan
Office of Public Affairs
202-326-2334

Mitchell J. Katz
Office of Public Affairs
202-326-2161

STAFF CONTACT:
Jonathan Cohen
Bureau of Consumer Protection
202-326-2551