Event Description
On January 28, 2020, staff of the Federal Trade Commission examined voice cloning technologies that enable users to make near-perfect reproductions of a real person's voice. Advances in artificial intelligence and text-to-speech (TTS) synthesis have allowed researchers to create a near-perfect voice clone with less than a five second recording of a person's voice.
Although there are a number of promising uses for this technology (for example, editing the work of voice actors and enabling people with tracheotomies and other conditions to use TTS systems using voices derived from their previously-recorded audio samples), it also has the potential to cause substantial harm when used maliciously. For instance, numerous consumers already fall prey to "grandparent scams" (where an elderly person receives a phone call supposedly from a grandchild in distress who needs cash) and phishing scams (where an employee is contacted by a superior and directed to immediately wire funds to a vendor). Voice cloning may make it harder for consumers to identify these sorts of social engineering scams.
The workshop examined:
Speech synthesis using the voice of an actual person.
Development and deployment of voice cloning technologies, from healthcare and consumer-oriented applications (customer service, entertainment, etc.) to fraudulent schemes.
Ethical concerns related to the use of cloned voices.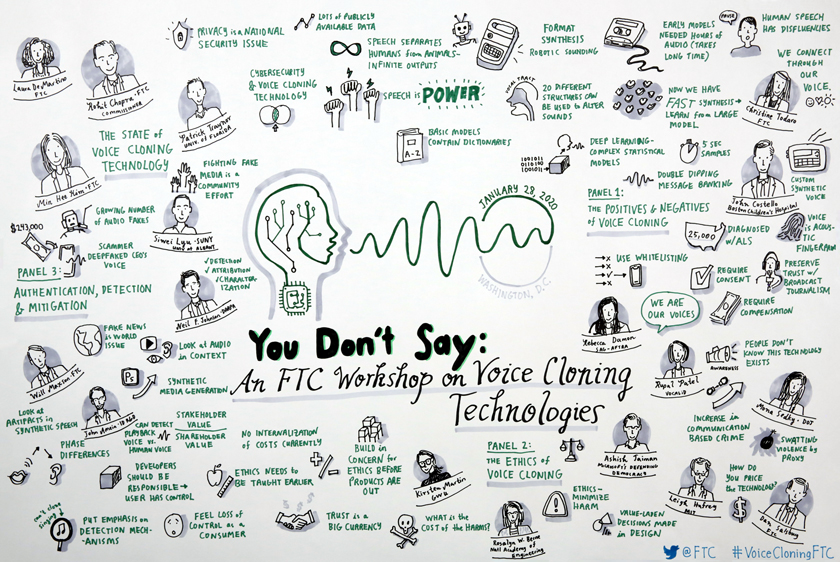 A BCP staff artist's representation of You Don't Say
12:30 pm

Introductions and Opening Remarks

Min Hee Kim
Federal Trade Commission, Office of Technology Research & Investigation

Rohit Chopra
Federal Trade Commission, Commissioner

12:45 pm

Presentation: The State of Voice Cloning Technology

Patrick Traynor
John and Mary Lou Dasburg Preeminence Chair in Engineering, Herbert Wertheim College of Engineering, University of Florida

1:10 pm

Panel One: The Positives and Negatives of Voice Cloning

Panelists:
John Costello
Director, Augmentative Communication Program, Boston Children's Hospital
Rebecca Damon
Executive Vice President, SAG-AFTRA
Rupal Patel
CEO & Founder, VocaliD INC
Mona Sedky
Attorney, U.S. Department of Justice, Computer Crime & Intellectual Property Section

Moderator:
Christine Todaro, FTC Division of Marketing Practices

2:25 pm

Break

2:40 pm

Panel Two: The Ethics of Voice Cloning

Panelists:
Rosalyn W. Berne
Director, Center for Engineering Ethics and Society, National Academy of Engineering
Leigh Hafrey
Senior Lecturer, MIT Sloan School of Management
Ashish Jaiman
Director of Technology and Operations for Microsoft's Defending Democracy program
Kirsten Martin
Chair, Department of Strategic Management & Public Policy, George Washington University School of Business

Moderator:
Dan Salsburg, FTC Office of Technology Research & Investigation

3:40 pm

Break

3:50 pm

Panel Three: Authentication, Detection, and Mitigation

Panelists:
John Amein
Vice President, ID R&D
Neil Johnson
Science & Engineering Technical Advisor contractor, Defense Advanced Research Projects Agency (DARPA)
Siwei Lyu
Professor, Department of Computer Science, and Director of Computer Vision and Machine Learning Lab (CVML), University at Albany, State University of New York
Patrick Traynor
John and Mary Lou Dasburg Preeminence Chair in Engineering, Herbert Wertheim College of Engineering, University of Florida

Moderators:
Will Maxson, FTC Division of Marketing Practices

4:45 pm

Closing Remarks

Lois Greisman
Associate Director, FTC, Division of Marketing Practices