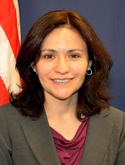 Welcome to the Federal Trade Commission's 2014 Annual Highlights. This past year marked the agency's centennial, and we had a wonderful series of commemorative events, including a visit early this year by President Obama in which he unveiled key privacy initiatives.
In these Highlights, you will find an overview of the FTC's major initiatives and achievements for calendar year 2014. Our accomplishments include important law enforcement work in key sectors of our economy—health care, technology, and a variety of consumer services; research and policy initiatives to better understand the dynamics of evolving markets and our increasingly digital and mobile world; international engagement to promote sound competition enforcement and protect consumers in the global marketplace; and creative and practical strategies to educate consumers and businesses about their rights and responsibilities.
We have also had a series of important appellate victories in the first quarter of 2015. In February, the Supreme Court upheld the FTC's position in North Carolina State Board of Dental Examiners v. FTC that state agencies comprised of market participants are subject to the antitrust laws in the absence of active state supervision. That same month, in the St. Luke's Health System's matter, the U.S. Court of Appeals for the Ninth Circuit affirmed the Idaho district court's ruling that St. Luke's acquisition of the Saltzer physician group would have created a dominant provider of physician services for adults seeking primary care in Nampa, Idaho. Additionally, in January in the POM Wonderful case, the U.S. Court of Appeals for the D.C. Circuit affirmed the Commission's 2013 decision that the company and its principals deceptively advertised that their products could treat, prevent, or reduce the risk of certain diseases.
As we highlight the achievements of the last year, my fellow Commissioners—Julie Brill, Maureen Ohlhausen, Joshua Wright, and Terrell McSweeny—and I express our gratitude to the FTC's able staff for their dedication and tireless efforts on behalf of the American public. We had an incredible year and look forward to another century of service for American consumers.

Edith Ramirez, Chairwoman