Protecting America's Consumers
The Federal Trade Commission stops unfair and deceptive business practices by investigating and bringing law enforcement cases against companies that break the law. Between July 1, 2017 and June 30, 2018, the Bureau of Consumer Protection obtained 114 court orders for nearly $563 million.1
The Bureau's Office of Claims and Refunds supports the Commission's mission by returning money to the consumers and businesses who were harmed by these illegal practices. This year, the office directed dozens of mailings to send $122 million in refunds, and supported refund programs administered by FTC defendants or another federal agency to deliver more than $2.3 billion in refunds.2
Getting Money Back into People's Pockets
The goal of FTC law enforcement actions is to halt illegal practices, and when possible, get refunds to people who lost money. Once an FTC lawsuit or settlement is final and the defendants have paid the money the court orders, the Office of Claims and Refunds develops a plan for returning that money to the right people. If there is money left over at the conclusion of the refund program, or if there is not enough money to provide meaningful refund amounts, then the FTC sends the money to the U.S. Treasury, where it is deposited into the General Fund.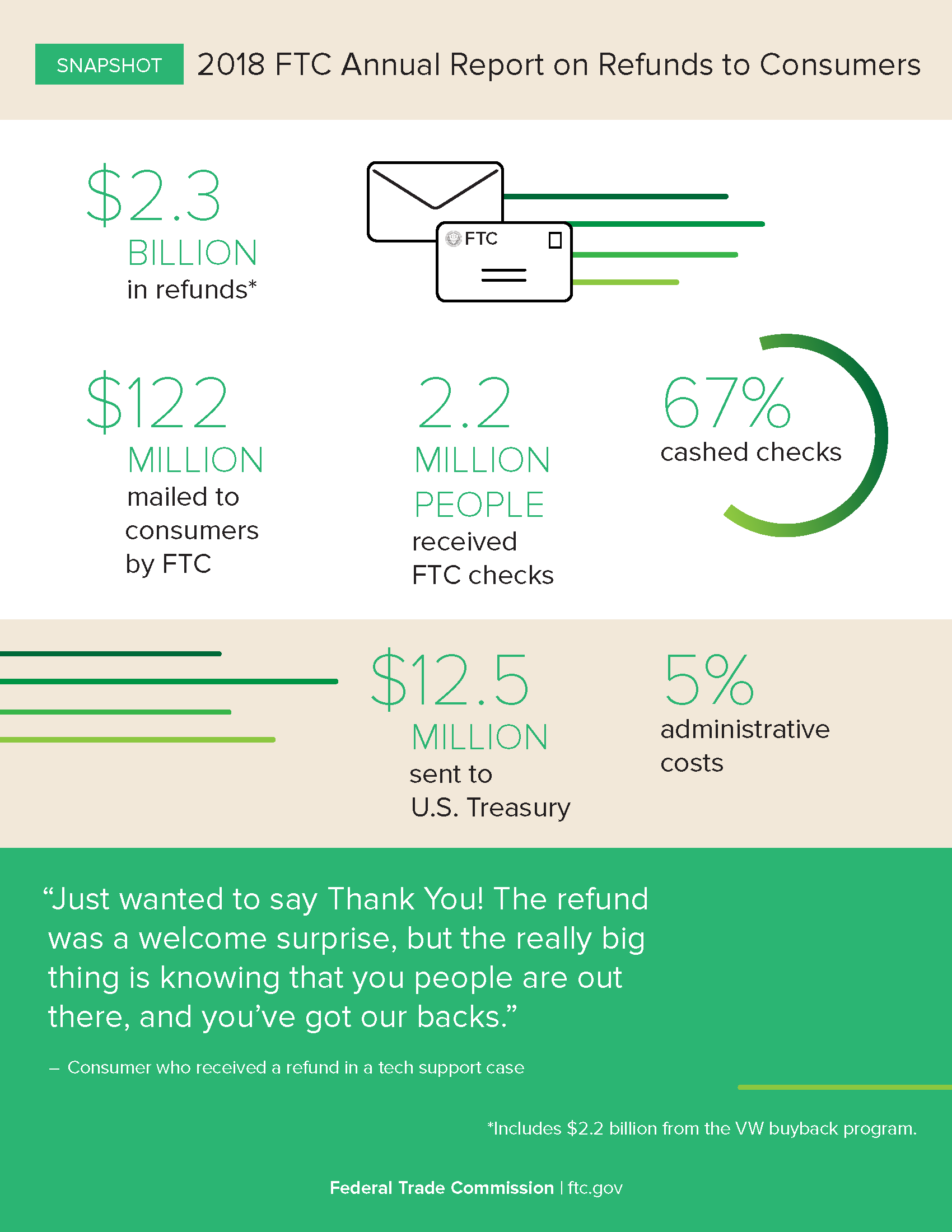 In total, FTC cases resulted in more than $2.3 billion in refunds for consumers. Here is a snapshot of refund programs administered by the FTC between July 2017 and June 2018:
Total amount FTC mailed: $122 million3
Number of people who received FTC checks: 2.2 million
Check cashing rate of first round distributions: 67%
Average percentage spent on administrative costs: 5%
Money sent to the U.S. Treasury: $12.5 million
1This figure does not equal the total amount of judgments the FTC obtained within the time period because some judgments are suspended by the court when a defendant has an inability to pay it.
2This number includes self-administered programs as described on page seven of this report. Notably, it includes a landmark settlement with VW that required the company to offer a buyback program for owners of VW and Audi diesel cars fitted with illegal emissions defeat devices. The VW buyback program resulted in more than $2.2 billion in refunds during this time period.
3During this time period, consumers cashed or deposited checks from the FTC totaling $107.5 million.