Federal Trade Commission Acting Chairman Maureen K. Ohlhausen released the agency's 2017 Annual Highlights today, detailing its continued efforts to protect American consumers and promote competition without unnecessarily burdening legitimate businesses.
"This year, the FTC has pressed forward with aggressive agendas for enforcing the nation's consumer protection and competition laws," said Acting Chairman Ohlhausen. "The Commission also made major strides in other key areas, such as promoting economic liberty and helping military consumers and small businesses."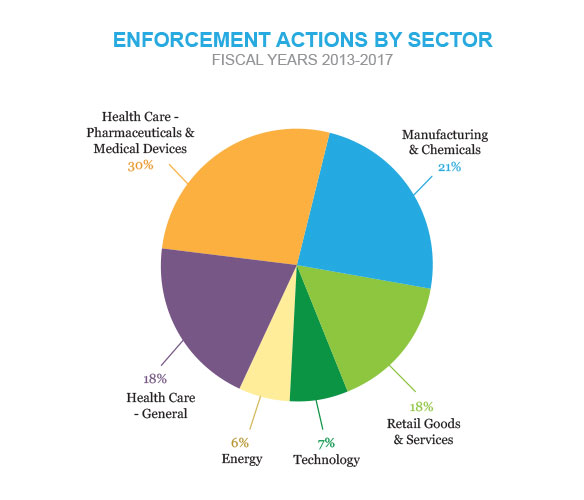 The FTC's Enforcement Highlights summarize the notable cases the agency brought during the past year in sectors ranging from health care and technology to telemarketing and student debt, as well as other consumer products and services.
Health Care
In 2017, the FTC continued to promote competitive health care markets by challenging harmful mergers and seeking to stop anticompetitive business conduct. For instance, the Commission successfully challenged a merger that would have allowed certain physicians in North Dakota to raise rates. The agency also brought cases involving a variety of anticompetitive conduct by pharmaceutical companies, including its first federal court monopolization case alleging an abuse of government processes. In a significant victory for the Commission, the pharmaceutical company Mallinckrodt ARD Inc. agreed to pay $100 million to settle FTC charges that it illegally acquired the rights to develop a drug that threatened its U.S. monopoly over a medication used as a treatment for infantile spasms.
Technology
The Commission continued its efforts to promote competition in technology markets as a way to stimulate innovation and growth in the economy, increase quality, and decrease prices. In 2017, the Commission took action to preserve competition in the worldwide market for fibre channel switches, which are part of storage area networks that transfer data between servers and storage arrays in data centers. On the consumer protection front, the FTC continued its efforts to combat unwanted telemarketing calls, protect consumers' privacy and data security, ensure truthful marketing on social media platforms, and fight tech support imposter scams. For example, the case against satellite TV provider Dish Network for violating the Telemarketing Sales Rule resulted in a groundbreaking civil penalty. After eight years of litigation by the FTC, Department of Justice (DOJ), and the Attorneys General of California, Illinois, North Carolina, and Ohio, the Court imposed a record-setting $280 million civil penalty against Dish.
In 2017, the FTC continued to prioritize privacy and data security, announcing nine privacy and three data security cases. For instance, the Commission and 32 State Attorneys General reached a settlement with the computer manufacturer Lenovo after challenging the company's privacy practices. In addition, the FTC and the New Jersey Attorney General reached a $2.2 million settlement with VIZIO, Inc., one of the world's largest manufacturers and sellers of internet-connected "smart" televisions, over charges that the software on its TVs collected viewing data on 11 million consumer TVs without consumers' knowledge or consent.
The Commission brought its first ever case against social media influencers, charging the owners of the CSGO Lotto site with deceptively endorsing the online gambling service CSGO Lotto, while failing to disclose they jointly owned the company. The Commission also sent more than 90 educational letters to influencers and brands to persuade them to comply with truth-in-advertising principles in the FTC's Endorsement Guides. The Commission also led a federal, state, and international effort to combat tech support scams, which resulted in 16 new enforcement actions.
Getting Money Back for Consumers
In 2017, the FTC distributed over $269 million in redress directly to more than 3 million consumers and supported refund programs administered by FTC defendants that delivered more than $5 billion in refunds.
In a global settlement with the FTC and the DOJ, Western Union agreed to return $586 million to consumers to settle charges that the company didn't adequately protect them from fraud, and didn't properly discipline problem agents. In addition, a federal court finalized the FTC's settlement with Volkswagen by ensuring that all consumers who purchased a TDI diesel engine vehicle will be fully compensated for their losses.
International Law Enforcement
The FTC worked on nearly 100 investigations and enforcement actions with competition, consumer protection, and privacy agencies in other countries to halt deceptive and anticompetitive business practices that affect U.S. consumers. With DOJ, it revised the agencies' International Antitrust Guidelines, which provide guidance to businesses and practitioners on the agencies' international enforcement policy on competition matters, and entered into a memorandum of understanding (MOU) with the Royal Canadian Mounted Police to enhance consumer protection enforcement cooperation.
The Policy Highlights note that FTC staff hosted 24 workshops and conferences that explored issues such as developments in the health care industry, competition issues such as prescription drug markets and other technology-related issues including how technology impacts connected and autonomous motor vehicles, students, and financial services and payment systems. FTC staff also filed 11 advocacy comments with state and federal decision makers to promote competition and consumer protection principles.
Economic Liberty
The Economic Liberty Task Force, convened by Acting Chairman Ohlhausen, expanded the FTC's cooperation with state and federal leaders to identify and eliminate unnecessary or overbroad occupational licensing restrictions that threaten economic liberty and harm competition, which may lead to higher prices, lower quality, and reduced consumer access to services. As the Task Force highlighted via the Voices for Liberty project, many state-based restrictions are particularly harmful to military spouses in licensed occupations, because their families relocate frequently across state lines, which requires the military spouse to obtain a new license in order to work.
International Policy
The agency continued its leadership in international policy, leading acclaimed International Competition Network projects on merger review and procedural fairness and working with the Department of Commerce to conduct a successful first Annual Review of the European Union-United States (EU-U.S.) Privacy Shield cross-border data transfer mechanism. agency also brought its first three cases to enforce the Privacy Shield framework.
Finally, the Education and Outreach Highlights summarize the agency's efforts to help businesses understand their legal responsibilities and consumers stay informed about ways to avoid fraud and deceptive business practices. Last year, the agency published 212 blog posts for consumers in English, 116 blog posts for consumers in Spanish, 132 blog posts for businesspeople and attorneys, and 18 competition blog posts. Popular blog posts covered the Equifax data breach, Equifax imposters, free credit freezes and choosing between a fraud alert or credit freeze as well as posts about imposters – some who made calls with a spoofed FTC phone number and others who misused the Publishers Clearing House name.
More statistics are available in the Stats & Data 2017 infographic. Archives of past FTC Annual Highlights and Reports are also available online.
The Federal Trade Commission works to promote competition, and protect and educate consumers. You can learn more about consumer topics and file a consumer complaint online or by calling 1-877-FTC-HELP (382-4357). Like the FTC on Facebook, follow us on Twitter, read our blogs and subscribe to press releases for the latest FTC news and resources.