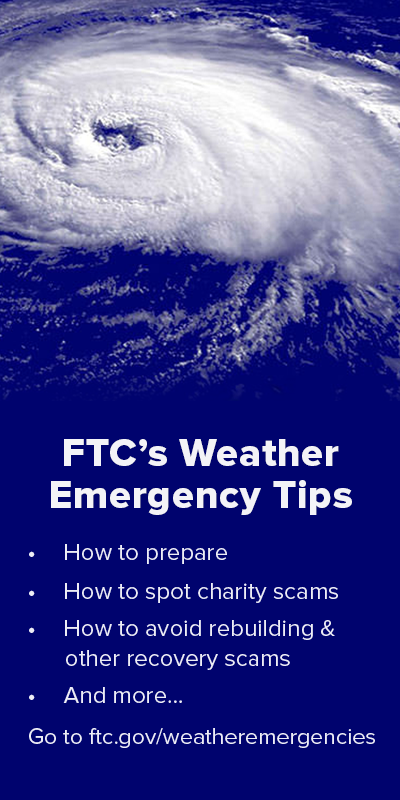 As Hurricane Irma bears down on Florida and possibly other states, the Federal Trade Commission has information to help you prepare for, deal with, and recover from the long-term impacts of a weather emergency, including these basics:
Find out if your home, health, or other insurance policy will pay for temporary shelter, replacement clothing, furniture, or other items.
For more tips and information, visit:
Be alert to charity scams. Urgent appeals for donations may not be on the up-and-up. Check out the charity with the Better Business Bureau's (BBB) Wise Giving Alliance, Charity Navigator, Charity Watch, or GuideStar. These organizations provide lists of charities they have screened that are raising funds for specific causes, like Hurricane Harvey or Irma relief assistance.
Never click on links or open attachments in e-mails unless you know who sent it. You could unknowingly install malware on your computer.
Don't assume that charity messages posted on social media are legitimate. Research the organization yourself.
Find out if the charity or fundraiser must be registered in your state by contacting the National Association of State Charity Officials. If they should be registered, but they're not, consider donating through another charity.
Check out the Federal Emergency Management Agency's (FEMA) volunteer and donation page. It outlines the best ways you can help people and communities who are impacted by a disaster.
Designate the disaster so you can ensure your funds are going to disaster relief, rather than a general fund.
Give directly rather than through a paid fundraiser. Professional fundraisers get a percentage of your donation, sometimes 50 percent or more.
When texting to donate, confirm the number with the source before you donate. The charge will show up on your mobile phone bill, but donations are not immediate.
Once the storm has passed, these tips and links to resources can help ease the difficult tasks of recovery:
The Federal Trade Commission works to promote competition, and protect and educate consumers. You can learn more about consumer topics and file a consumer complaint online or by calling 1-877-FTC-HELP (382-4357). Like the FTC on Facebook, follow us on Twitter, read our blogs and subscribe to press releases for the latest FTC news and resources.
Contact Information
MEDIA CONTACT:
Office of Public Affairs
202-326-2180