The Federal Trade Commission today issued the National Do Not Call Registry Data Book for Fiscal Year 2016. Consumers can use the National Do Not Call Registry to choose not to receive telemarketing calls. Now in its eighth year of publication, the Data Book contains a wealth of information about the Registry for FY 2016 (from October 1, 2015 to September 30, 2016), including:
State rankings for National Do Not Call registry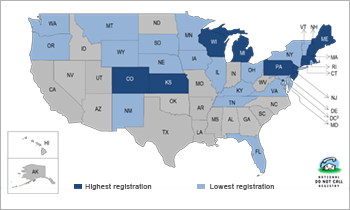 Download larger image
The number of active registrations and consumer complaints since the Registry began in 2003;
FY 2016 complaint figures by month and type;
FY 2016 registration and complaint figures for all 50 states and the District of Columbia, by population;
Rankings of the number of Do Not Call registrations, by state population;
The number of entities accessing the Registry by fiscal year; and
An appendix with registration and complaint figures organized by consumer state and area code.
According to the Data Book, at the end of FY 2016, the Do Not Call Registry contained just over 226 million actively registered phone numbers, up from the 223 million at the end of FY 2015. In addition, the number of consumer complaints about unwanted telemarketing calls received increased from just under 3.6 million during FY 2015 to just over 5.3 million during FY 2016.
During the past fiscal year, the FTC has continued to receive many consumer complaints about telemarketing robocalls. The number of complaints varied by month, ranging between a low of 134,029 in November 2015 and a high of 265,676 in August of this year.
Most telemarketing robocalls have been illegal since September 2009. As part of the FTC's ongoing efforts to stop illegal robocalls, the agency announced several new enforcement actions, including a case brought with the assistance of the U.S. Department of Justice targeting a lead generator who used robocalls to pitch solar energy packages, as well as an action permanently barring vacation package pitchmen from using robocalls to defraud consumers.
Finally, in FY 2016, the FTC staff provided comments to the Federal Communications Commission on the use of robocalls to collect debts owed to the federal government, as part of its continued work to help inform other agencies about robocall issues.
Information for Consumers
Information for consumers about the Do Not Call Registry, company-specific do not call requests, and telemarketer Caller ID requirements can be found on the FTC's website, and consumers can sign up for the National Registry for free. Other information about robocalls and what consumers can do about them also is available.
The Federal Trade Commission works to promote competition, and protect and educate consumers. You can learn more about consumer topics and file a consumer complaint online or by calling 1-877-FTC-HELP (382-4357). Like the FTC on Facebook, follow us on Twitter, read our blogs and subscribe to press releases for the latest FTC news and resources.
Contact Information
MEDIA CONTACT:  
Mitchell J. Katz,
Office of Public Affairs
202-326-2161
STAFF CONTACT:
Ami Dziekan,
Bureau of Consumer Protection
202-326-2648