Federal Trade Commission staff has sent 45 letters to contact lens prescribers and 10 to contact lens sellers warning them of potential violations of the agency's Contact Lens Rule, which is intended to facilitate the ability of consumers to comparison shop for contact lenses while ensuring that sales occur only in accordance with a valid prescription.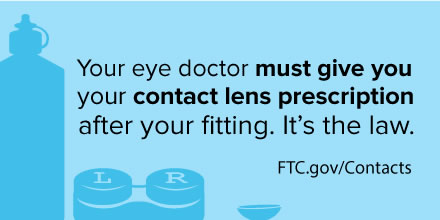 Under the Rule, prescribers fitting patients for contact lenses are required to give them their prescription at the end of the fitting. Prescribers also are prohibited from charging additional fees for releasing the prescription and from obligating a patient either to buy contact lenses from them, or to sign a waiver, before releasing a prescription.
Sellers may provide contact lenses to consumers only after either obtaining a copy of a valid prescription or, alternatively, verifying the prescription with the prescriber. Sellers may not dispense lenses using an expired prescription, and may only substitute lenses under certain conditions, as specified in the Rule.
The letters warn the prescribers and sellers that violations of the Rule may result in legal action, including civil penalties of up to $16,000 per violation. Along with the letters, staff also provided copies of the Rule, as well as guidance on prescribers' and sellers' obligations under the Rule: The Contact Lens Rule: A Guide for Prescribers and Sellers and Complying with the Contact Lens Rule.
In 2003, Congress enacted the Fairness to Contact Lens Consumers Act, which requires prescribers to release contact lens prescriptions to patients, and requires sellers of contact lenses to verify prescriptions with prescribers. In July 2004, the Commission issued the Contact Lens Rule to implement the Act.
The FTC has information to help consumers understand their rights under federal law. See: Prescription Glasses and Contact Lenses.
The Federal Trade Commission works to promote competition, and protect and educate consumers. You can learn more about consumer topics and file a consumer complaint online or by calling 1-877-FTC-HELP (382-4357). Like the FTC on Facebook, follow us on Twitter, read our blogs and subscribe to press releases for the latest FTC news and resources.
Contact Information
MEDIA CONTACT:
Mitchell J. Katz,
Office of Public Affairs
202-326-2161
STAFF CONTACT:
Beth Delaney,
Bureau of Consumer Protection
202-326-2903