The marketers of a cactus-based fruit drink have agreed to provide $3.5 million for consumer refunds in order to settle FTC charges that they deceived consumers with unsupported claims that their drink, Nopalea, would treat a variety of health problems.
The settlement with dietary supplement company TriVita, Inc. is part of the FTC's ongoing efforts to stop over-hyped health claims.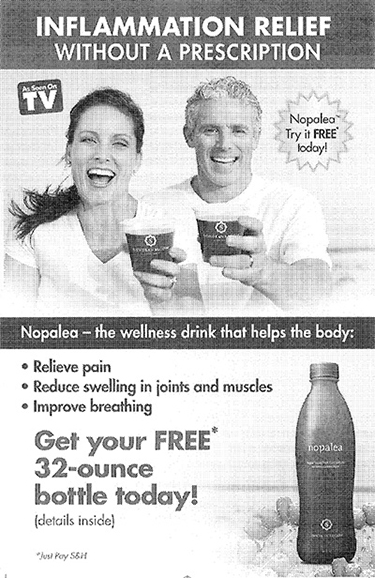 TriVita markets 32-ounce bottles of the "prickly pear" fruit drink, derived from the Nopal cactus, for up to $39.99 plus shipping and handling.   According to the FTC's complaint, advertisements on the defendants' websites tout "Inflammation Relief without a Prescription." The defendants' infomercials featuring celebrity endorser and former supermodel Cheryl Tiegs, market Nopalea as an "anti-inflammatory wellness drink" that relieves pain, reduces and relieves joint and muscle swelling, improves breathing and alleviates respiratory problems, and relieves skin conditions.   Trivita's former Chief Science Officer, Brazos Minshew, also appears in the infomercials and links inflammation to allergies, Alzheimer's disease, heart disease and diabetes.  He notes in one of the infomercials that "over 200 articles published and archived at the National Institutes of Health demonstrate one thing: the Nopal cactus will reduce inflammation."  The infomercials also feature testimonials by satisfied consumers who are actually paid employees of defendants, according to the complaint.
"These kinds of unfounded claims are unacceptable, particularly when they impact consumers' health," said Jessica Rich, Director of the FTC's Bureau of Consumer Protection. "Advertisers who cannot back up their claims with competent and reliable scientific evidence are violating the law."        
The defendants are charged with violating Sections 5 and 12 of the FTC Act by:
making unsupported claims that Nopalea significantly improves breathing and relieves sinus infections and other respiratory conditions, and provides significant relief from pain, swelling of the joints and muscles, and psoriasis and other skin conditions.
making false claims that the health benefits of Nopalea were proven by clinical studies.
failing to disclose that supposedly ordinary consumer endorsers were in fact TriVita sales people who received commissions for selling the defendants' products.
Besides TriVita, Inc., the complaint names as defendants marketing company Ellison Media Company, and Michael R. and Susan R. Ellison, who control both companies.
Under the proposed settlement order, the defendants are barred from making the health claims alleged in the complaint when marketing Nopalea or any food, drug, or dietary supplement without  randomized, double-blind, placebo-controlled human clinical tests conducted by qualified researchers; making any health claims without competent and reliable scientific evidence; misrepresenting that health benefits are clinically proven when they are not; and failing to disclose any material connection between endorsers of their products and themselves.
Consumers should carefully evaluate advertising for products that claim to cure diseases.  For more information, see: Miracle Health Claims.
The Commission vote authorizing the staff to file the complaint and approving the proposed settlement order was 5-0. The FTC filed the complaint and proposed stipulated final order in the U.S. District Court for the District of Arizona on July 10, 2014. The proposed order is subject to court approval.
NOTE: The Commission files a complaint when it has "reason to believe" that the law has been or is being violated and it appears to the Commission that a proceeding is in the public interest. Settlement orders have the force of law when approved and signed by the District Court judge.
The Federal Trade Commission works for consumers to prevent fraudulent, deceptive, and unfair business practices and to provide information to help spot, stop, and avoid them. To file a complaint in English or Spanish, visit the FTC's online Complaint Assistant or call 1-877-FTC-HELP (1-877-382-4357). The FTC enters complaints into Consumer Sentinel, a secure, online database available to more than 2,000 civil and criminal law enforcement agencies in the U.S. and abroad. The FTC's website provides free information on a variety of consumer topics. Like the FTC on Facebook, follow us on Twitter, and subscribe to press releases for the latest FTC news and resources.
Contact Information
MEDIA CONTACT:
Betsy Lordan
Office of Public Affairs
202-326-3707

STAFF CONTACT:
Nicholas May
Western Regional Office, Los Angeles
310-824-4313