The Federal Trade Commission has charged personal care company Lornamead, Inc. with deceiving consumers with exaggerated claims that its "Lice Shield" shampoo, stick, and spray products  will prevent or reduce the risk of getting head lice. Under an agreed-upon settlement, Lornamead will pay $500,000, and is prohibited from making further deceptive lice-prevention claims.
Unlike traditional head lice treatments, or pediculicides, Lornamead markets its Lice Shield products for preventing rather than treating head lice infestations. Lornamead claimed in print ads, website and banner ads, and on product packaging, that the citronella and other essential oils in its Lice Shield products would "dramatically reduce" the risk of head lice infestations, according to the complaint. Selling its products in Albertsons, CVS, Safeway, Rite Aid, ShopRite, Walgreens, and WalMart, the company claimed that the best way to treat lice was to avoid getting them, with Lice Shield products that are "scientifically shown to repel head lice."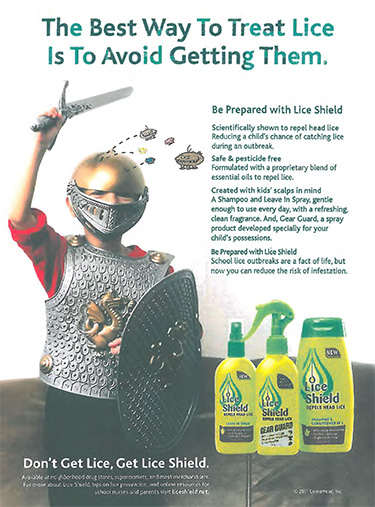 A Lice Shield advertisement stating the product is "scientifically shown to repel head lice." (click to enlarge)
"As any parent knows, an outbreak of lice can wreak havoc," said Jessica Rich, Director of the FTC's Bureau of Consumer Protection. "When marketers say their products can be used to avoid these pests, they'd better make sure they can back up their claims."
The FTC alleged that Lornamead's misleading claims violated the Federal Trade Commission Act.
As part of the FTC's ongoing crackdown on misleading health claims in advertising, the proposed order requires Lornamead to have at least one well-controlled human clinical study supporting its claims that Lice Shield products and other drugs, cosmetics or pesticides it markets will shield consumers from pediculosis; reduce the risk of an infestation by a specific percentage or amount; repel all lice; or repel a specific percentage or amount of lice.
For any other claims it makes about repelling lice or reducing the risk of infestation, and for claims it makes about the health benefits of any drug, cosmetic, or pesticide, the company is required to have competent and reliable scientific evidence. The proposed order also prohibits Lornamead from misrepresenting any tests, studies, or research when marketing such products.
For consumer information about avoiding head lice, see the "Heading off Head Lice" portion of the FDA publication Treating Head Lice, which advises avoiding head-to-head contact, and not sharing items such as hats, scarves, helmets, combs, and brushes.
The Commission vote to issue the administrative complaint and to accept the agreement containing the proposed consent order for public comment was 4-0-1 with Commissioner Terrell McSweeny not participating.
The FTC will publish a description of the complaint and consent agreement  in the Federal Register shortly.  The agreement will be subject to public comment for 30 days, beginning today and continuing through June 27, 2014, after which the Commission will decide whether to make the proposed consent order final.  Interested parties can submit written comments electronically or in paper form by following the instructions in the "Invitation To Comment" part of the "Supplementary Information" section.  To submit comments electronically, follow instructions on the web-based form. If you prefer to file your comment on paper, mail your comment to the following address:  Federal Trade Commission, Office of the Secretary, 600 Pennsylvania Avenue, NW, Suite CC-5610, (Annex D), Washington, DC 20580, or deliver your comment to the following address:  Federal Trade Commission, Office of the Secretary, Constitution Center, 400 7th Street, SW, 5th Floor, Suite 5610, (Annex D), Washington, D.C. 20024. 
NOTE: When the Commission issues a consent order on a final basis, it carries the force of law with respect to future actions. Each violation of such an order may result in a civil penalty of up to $16,000.
The Federal Trade Commission works for consumers to prevent fraudulent, deceptive, and unfair business practices and to provide information to help spot, stop, and avoid them. To file a complaint in English or Spanish, visit the FTC's online Complaint Assistant or call 1-877-FTC-HELP (1-877-382-4357). The FTC enters complaints into Consumer Sentinel, a secure, online database available to more than 2,000 civil and criminal law enforcement agencies in the U.S. and abroad. The FTC's website provides free information on a variety of consumer topics. Like the FTC on Facebook, follow us on Twitter, and subscribe to press releases for the latest FTC news and resources.
Contact Information
MEDIA CONTACT:
Betsy Lordan
Office of Public Affairs
202-326-3707

STAFF CONTACT:
Linda K. Badger or Sylvia Kundig
FTC Western Region, San Francisco
415-848-5100