The Federal Trade Commission has mailed 10,144 checks to consumers who bought Disney- or Marvel Hero-themed vitamins for their kids that featured characters such as the Disney Princesses, Winnie the Pooh, Finding Nemo, and Spider-Man.
More than $425,000 is being returned to consumers who submitted claims for vitamins they bought between May 1, 2008 and September 30, 2010.  Eligible consumers will receive 100 percent of what they paid, up to $125 per household.  The FTC is providing these refunds as part of a settlement with vitamin marketer NBTY Inc. and two subsidiaries, which resulted from charges that they made false health claims about their vitamins.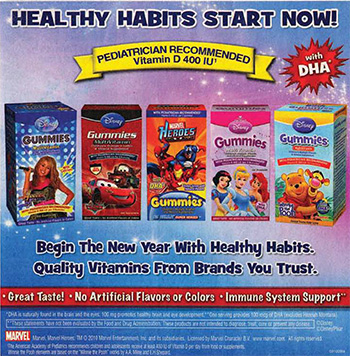 An advertisement for Disney- and Marvel Hero-themed vitamins, noting the ingredient DHA.
The period for filing claims has ended.  Consumers who receive the checks from the FTC's refund administrator have 60 days to cash them.  The FTC never requires consumers to pay money or provide information before refund checks can be cashed.  Those with questions should call the refund administrator, BMC Group, at 1-866-224-4336 or visit www.FTC.gov/refunds for more general information.
Major retailers such as CVS Pharmacy, Wal-Mart, Target, Walgreens, Kroger, Kmart, Meijer, and Rite Aid sold the vitamins, and they also were sold online.
As part of its ongoing efforts to stop bogus health claims, the Federal Trade Commission reached a settlement in 2010 requiring the marketers to stop making allegedly false and unproven claims that their vitamins promote healthy brain and eye development in children.
The FTC charged NBTY, Inc., NatureSmart LLC, and Rexall Sundown, Inc., with making deceptive claims about the amount of DHA, an Omega-3 fatty acid, in their children's vitamin gummies and tablets, and the effect of that amount on eye and brain development in children.
Consumers should carefully evaluate advertising claims for vitamins and other dietary supplements.  For more information see:  Dietary Supplements.
The Federal Trade Commission works for consumers to prevent fraudulent, deceptive, and unfair business practices and to provide information to help spot, stop, and avoid them.  To file a complaint in English or Spanish, visit the FTC's online Complaint Assistant or call 1-877-FTC-HELP (1-877-382-4357).  The FTC enters complaints into Consumer Sentinel, a secure, online database available to more than 2,000 civil and criminal law enforcement agencies in the U.S. and abroad.  The FTC's website provides free information on a variety of consumer topics.  Like the FTC on Facebook, follow us on Twitter, and subscribe to press releases for the latest FTC news and resources.
Contact Information
MEDIA CONTACT:

Betsy Lordan 
Office of Public Affairs
202-326-3707

 

STAFF CONTACT:

BMC Group
1-866-224-4336