Event Description
The Federal Trade Commission began its Hearings on Competition and Consumer Protection in the 21st Century with a full-day session, co-sponsored with and held at the Georgetown University Law Center, on September 13, 2018.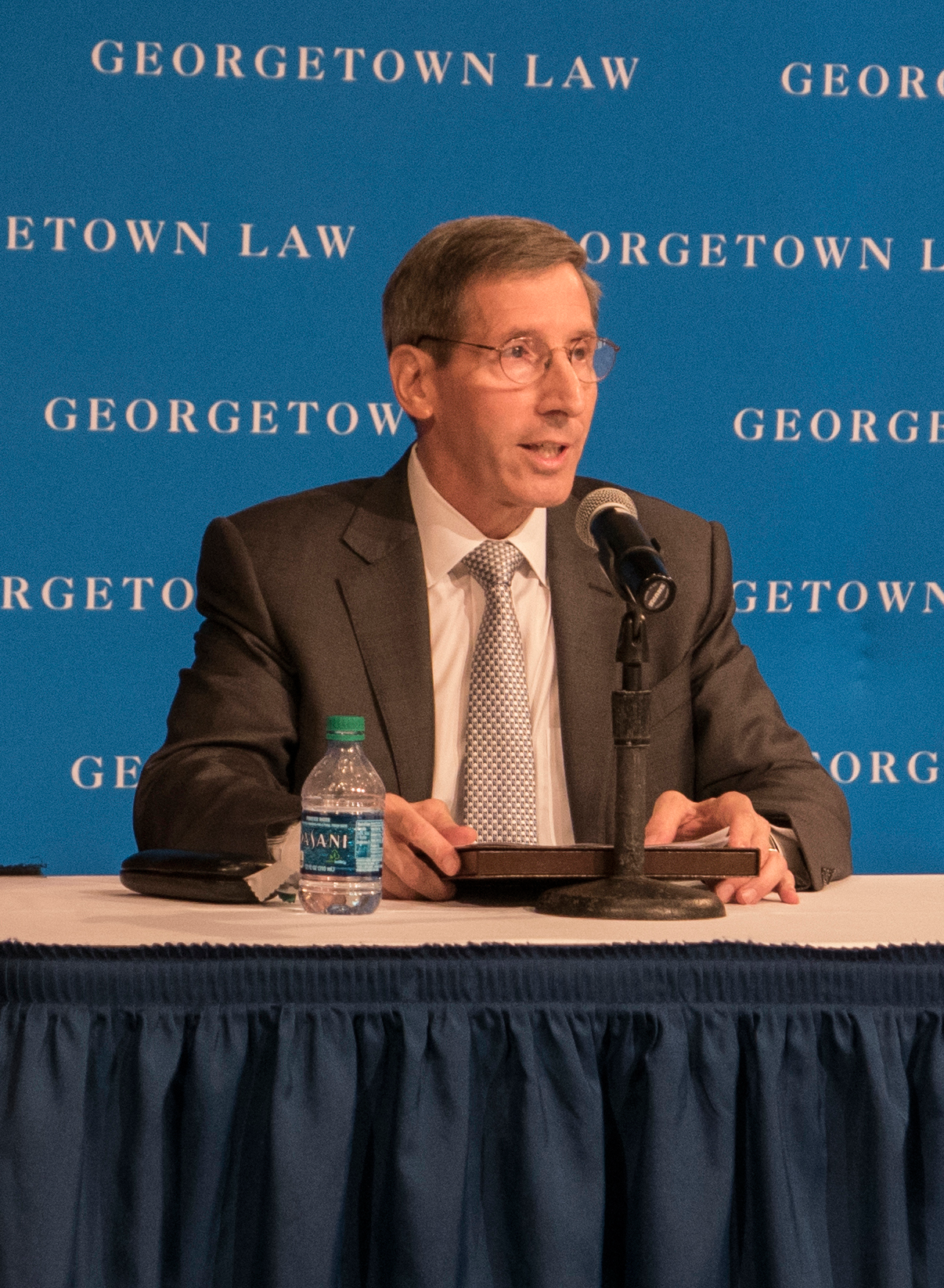 Chairman Joe Simons makes remarks
opening the first FTC hearing
The Georgetown event was the first in a series of hearings that will examine whether broad-based changes in the economy, evolving business practices, new technologies, or international developments might require adjustments to competition and consumer protection enforcement priorities of the Commission. Many sessions will conclude with an opportunity for those attending the event in-person to submit questions to the participants. These public events, in conjunction with the public comment process, will provide the FTC with a broad and diverse range of viewpoints and stimulate evaluation of key enforcement and policy issues.
FTC Chairman Joe Simons presented opening remarks, followed by a day of discussion by a distinguished set of panelists who discussed the following topics (some of which will be discussed on the rescheduled date):
the current landscape of competition and consumer protection law and policy;
whether the U.S. economy has become more concentrated and less competitive;
the regulation of consumer data;
antitrust law and the consumer welfare standard; and
the analysis of vertical mergers.
This hearing was initially scheduled for September 13-14, 2018, but the second day sessions were rescheduled to November 1 due to inclement weather.
Disability accommodation
We welcome people with disabilities. The FTC will accommodate as many attendees as possible; however, admittance will be limited to seating availability. Reasonable accommodations for people with disabilities are available upon request. Requests for accommodations should be submitted to Elizabeth Kraszewski via email at ekraszewski@ftc.govor by phone at (202) 326-3087. Such requests should include a detailed description of the accommodation needed. In addition, please allow at least five business days advance notice for accommodation requests; last minute requests will be accepted but may not be possible to accommodate.
Thursday, September 13, 2018

9:00 am

Welcome and Introductory Remarks

Joseph Simons
Federal Trade Commission

9:15-11:45 am

 

 

 

The Current Landscape of Competition and Consumer Protection Law and Policy

Participants:

Jason Furman
Harvard University, Kennedy School of Government
Alysa Hutnik
Kelley Drye & Warren LLP
Janet McDavid
Hogan Lovells US LLP
Timothy Muris
Sidley Austin LLP
George Mason University, Antonin Scalia Law School
James Rill
Baker Botts LLP
David Vladeck
Georgetown University Law Center

Moderator: Bilal Sayyed
Federal Trade Commission, Office of Policy Planning

 

1:30-3:00 pm

Has the US Economy Become More Concentrated and Less Competitive: A Review of the Data

Participants:

Jonathan Baker
American University Washington College of Law
Steven Berry
Yale University, Department of Economics
Fiona Scott Morton
Yale University School of Management
Joshua D. Wright
Antonin Scalia Law School, George Mason University
Wilson Sonsini Goodrich & Rosati

Moderator: Gregory Werden
U.S. Department of Justice, Antitrust Division

3:00-3:15 pm

Break

3:15-5:00 pm

 

The Regulation of Consumer Data

Participants:

Maureen K. Ohlhausen
Federal Trade Commission
Howard Beales
George Washington University School of Business
Daniel Solove
George Washington University Law School
David Vladeck
Georgetown University Law Center

Moderator: James Cooper
Federal Trade Commission, Bureau of Consumer Protection

5:00-5:15 pm

Closing Remarks

Howard Shelanski
Georgetown University Law Center
Davis Polk & Wardwell LLP

 
Request for Comments

If parties already filed relevant comments in response to the Initial Topics for Comment, they need not refile those comments here.