The Office of the Executive Director supports American consumers by ensuring that the FTC's lawyers and economists have the tools necessary to vigorously enforce the federal antitrust and consumer protection statutes and ensures that the agency remains one of the Best Places to work in the federal government. The Office of the Executive Director is comprised of four organizations, which manage the Commission's human capital, information technology, financial management, administrative services, and legal document processing and records management activities.
Summer and Semester Positions
"Working in the Office of the Executive Director has given me a glimpse into what it takes to run a federal agency. "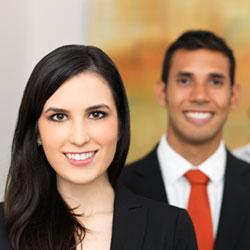 The Office of the Executive Director offers summer and semester volunteer opportunities. FTC Student Volunteers are highly successful, highly motivated undergraduate and graduate students who volunteer their time and talents to work on an unpaid basis with agency experts in budget and finance, human capital, information technology, records and facilities to help run the FTC on a day-to-day basis. Whatever the assignment, FTC Student Volunteers have the opportunity to:
Gain hands-on experience in their chosen field;
Engage in rewarding public service with a highly regarded federal agency;
Learn about a career in government budget and finance, human capital management, information technology, or public administration;
Obtain valuable work experience that may enhance their ability to obtain paying jobs in the future; and
If approved by their university or college, obtain academic credit for the work performed.
Eligibility
Students are eligible to participate as FTC Student Volunteers if they:
Are currently enrolled, at least half-time, in an accredited four-year college or university or an accredited graduate or professional program and are currently attending that institution;
Have the permission of the institution at which they are enrolled to participate in the program;
Are at least 16 years of age;
Agree that the services performed will not be compensated by the FTC; and
Are a U.S. citizen.
The FTC hires and retains FTC Student Volunteers based upon their qualifications and performance. The FTC does not discriminate in employment based on race, color, religion, sex, national origin, political affiliation, sexual orientation, gender identity, marital status, disability and genetic information, age, membership in an employee organization, or other non-merit factors.
For How long and When do FTC Student Volunteers Work?
Most student volunteers will work for the FTC for a semester, quarter, or summer break (approximately three to four months). FTC Student Volunteers may work during the school year and/or during summer.
Other Requirements/Critical Factors?
"I have witnessed the exciting challenges and rewards of working in public service. "
FTC Student Volunteers must agree to adhere to FTC policies and procedures, complete all required training, and are subject to security checks. Student Volunteers are not Federal employees and are neither covered by, nor entitled to: annual or sick leave; life or health insurance; retirement benefits; compensation for travel; or credit for federal service. FTC Student Volunteers are covered under the Federal Employees Compensation Act, which authorizes compensation for work-related injuries and under the Federal Tort Claims Act, which protects them from liability for injury or damage to others while they are acting within the scope of their assigned duties.
How to Apply
To apply for this program, the student must submit the following:
A cover letter describing the individual's interest in one or more of the following areas of work: facilities management, finance, information technology services, human capital, records management, or project or program management.
A current resume
A current transcript (unofficial)
Applicants should submit these materials via email to: hcmoemployment@ftc.gov. The subject line of the e-mail should read "FTC Student Volunteer Program." Applications are reviewed on a rolling basis until positions are filled.