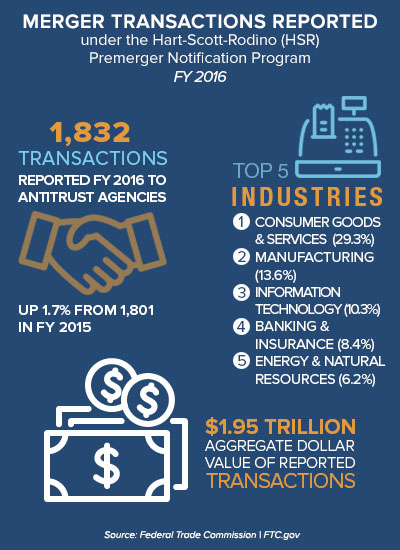 The Federal Trade Commission, together with the Justice Department's Antitrust Division, released the agencies' 39th Annual Hart-Scott-Rodino Report. The report presents fiscal year 2016 data on the HSR Premerger Notification Program that alerts the agencies to transactions that may substantially lessen competition in violation of federal law.
The report notes that 1,832 transactions were reported to both antitrust agencies during fiscal year 2016, a 1.7 percent increase from the 1,801 transactions in fiscal year 2015. The report also summarizes the agencies' merger enforcement activities for fiscal year 2016, highlighting the 47 merger challenges undertaken by both agencies in efforts to protect competition in sectors of the economy including consumer goods and services, pharmaceuticals, healthcare, high tech and industrial goods and energy.
The Commission alone brought 22 merger enforcement actions, 16 of which resulted in consent orders, and one of which was abandoned and restructured to address antitrust concerns.  Among the highlights, in May 2016, the U.S. District Court for the District of Columbia granted the Commission's request for an injunction to prevent Staples, Inc.'s proposed $6.3 billion acquisition of rival office supply company, Office Depot, Inc. Also, in September 2016, after an appeal, the Third Circuit Court of Appeals directed a district court to preliminarily enjoin the combination of Penn State Hershey Medical Center and PinnacleHealth System. Shortly after, Hershey and Pinnacle abandoned their proposed merger.
The report includes statistical tables profiling HSR filings and investigations during fiscal year 2016. Appendices provide a summary of transactions for the past 10 years, as well as the number of transactions reported and the number of filings received by month during this time. The percentage of transactions in which a second request issued increased from 2.7 percent in fiscal year 2015 to 3.0 percent in fiscal year 2016.
Enacted by Congress in 1976, the Hart Scott Rodino Act gives the federal government the opportunity to investigate and challenge mergers that are likely to harm consumers before injury occurs. The Commission vote to issue the report was 2-0.  (FTC File No. P110014; the staff contact is Sam Sheinberg, 202-326-2308)
The Federal Trade Commission works to promote competition, and protect and educate consumers. You can learn more about how competition benefits consumers or file an antitrust complaint. Like the FTC on Facebook, follow us on Twitter, read our blogs and subscribe to press releases for the latest FTC news and resources.
Contact Information
MEDIA CONTACT:
Office of Public Affairs
202-326-2180