The heads of the antitrust agencies of the United States and Japan met today in Washington for their 35th Bilateral Competition Consultation. Federal Trade Commission Chairwoman Edith Ramirez and Principal Deputy Assistant Attorney General of the U.S. Department of Justice's Antitrust Division Renata Hesse participated in high-level meetings with Japan Fair Trade Commission (JFTC) Chairman Kazuyuki Sugimoto and a delegation of officials from the JFTC.
The discussions covered a wide range of topics, including recent enforcement developments, antitrust policy and enforcement involving intellectual property and technology, and international enforcement cooperation. The purpose of the meeting is to reinforce ties of cooperation and share knowledge in light of the increasing internationalization of antitrust enforcement.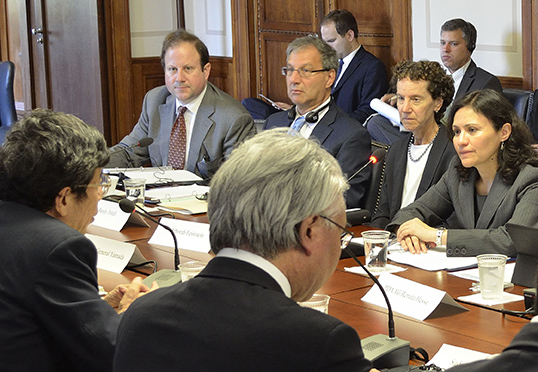 FTC representatives met today with senior officials from the JFTC. Pictured are (from left to right): Andrew Heimert, Office of International Affairs; Randy Tritell, Director, Office of International Affairs; Debbie Feinstein, Director, Bureau of Competition; and Chairwoman Edith Ramirez.
"We value our longstanding and productive relationship with the JFTC," said Chairwoman Ramirez. "The opportunity to exchange views on both current enforcement efforts as well as cutting edge policy issues such as intellectual property and the sharing economy helps to advance enforcement cooperation and the development of sound competition policies globally."
"The fact that this is our 35th bilateral meeting is a testament to the depth and strength of our relationship," said Principal Deputy Assistant Attorney General Hesse. "Given the importance of our economic ties and our shared interests in antitrust, we are incredibly fortunate to have such a close and productive relationship with the JFTC."
The United States-Japan bilateral competition consultations date back to 1976, making them the U.S. antitrust agencies' longest-running annual consultations with any foreign antitrust agency.
The Federal Trade Commission works with foreign governments to promote international cooperation and sound policy. Like the FTC on Facebook, follow us on Twitter, and subscribe to press releases and the FTC International Monthly for the latest FTC news and resources.
Contact Information
MEDIA CONTACT:
Mitchell J. Katz
Office of Public Affairs
202-326-2161