The Federal Trade Commission and the Department of Justice signed an antitrust cooperation agreement today with Peru's National Institute for the Defense of Competition and the Protection of Intellectual Property (INDECOPI).  The agreement will promote increased cooperation and communication among the competition agencies in both countries.  The agreement was signed in Washington, D.C., by FTC Chairwoman Edith Ramirez, Principal Deputy Assistant Attorney General Renata Hesse, head of the Justice Department's Antitrust Division, and Chairman Hebert Tassano of INDECOPI, and went into effect upon signature.          
"We have been partners with INDECOPI since its inception and are delighted to further enhance our already strong relationship through this agreement," Chairwoman Ramirez said. "This agreement embodies the commitment to cooperation that has existed between the U.S. agencies and INDECOPI, and will facilitate cooperation to protect the competitive marketplaces that benefit consumers in both of our countries as well as in this hemisphere."
"Markets in the United States and Peru, and throughout the Americas, are increasingly linked," said Principal Deputy Assistant Attorney General Hesse.  "In this environment, international cooperation on antitrust enforcement is vital to protecting our economies against threats to competition. We have longstanding ties to competition enforcers in Peru, and this agreement strengthens the tools we have to work together to provide our businesses and consumers with the benefits of open and competitive markets."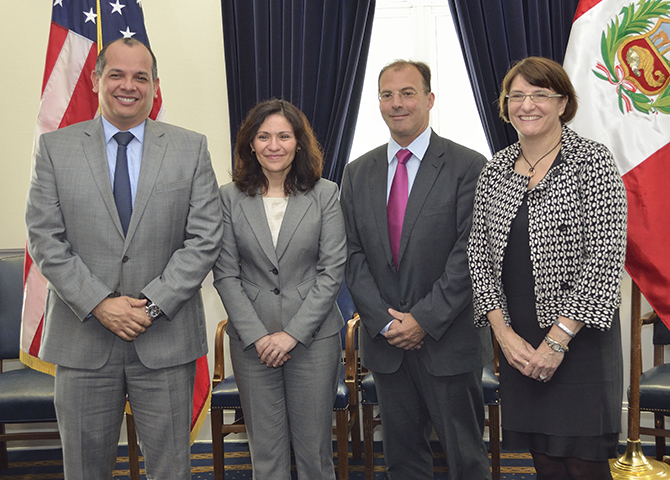 Present for the signing the MOU were, from left: Luis Miguel Castilla, Ambassador of Peru to the United States; FTC Chairwoman Edith Ramirez, Chairman Hebert Tassano of INDECOPI, and Principal Deputy Assistant Attorney General Renata Hesse, head of the Justice Department's Antitrust Division.
Highlights of the new agreement include the following:
mutual acknowledgment of the importance of antitrust cooperation, including potential coordination when pursuing enforcement activities on related matters;
an agreement to consider the important interests of the other country's competition authority throughout all phases of their enforcement activities;
establishment of a framework for communication, consultation, and technical assistance among the agencies; and
a commitment to maintain the confidentiality of any information provided by the other agency.
The U.S. antitrust agencies and INDECOPI have developed a strong working relationship since INDECOPI's inception in 1993, exchanging views on antitrust policy and, as appropriate, cooperating on investigations.  Today's agreement will further enhance these relations.
The agreement with INDECOPI is the U.S. antitrust agencies' fifth antitrust cooperation arrangement in Latin America, following those reached with Brazil (1999), Mexico (2000), Chile (2011), and Colombia (2014).
The Commission vote authorizing Chairwoman Ramirez to sign the MOU on behalf of the agency was 3-0.
The Federal Trade Commission works with foreign governments to promote international cooperation and sound policy.  Like the FTC on Facebook (link is external), follow us on Twitter (link is external), and subscribe to press releases and the FTC International Monthly for the latest FTC news and resources.
Contact Information
MEDIA CONTACT:
Peter Kaplan
Federal Trade Commission
Office of Public Affairs
202-326-2334