Event Description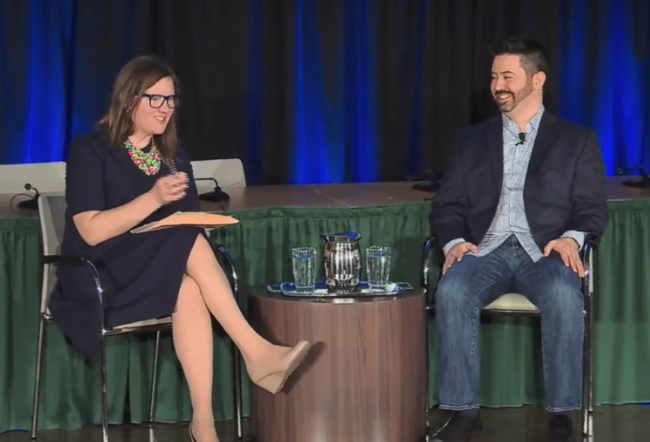 Commissioner Rebecca Kelly Slaughter's
Fireside Chat on Emerging Threats
at the ninth FTC hearing
The FTC held a hearing on data security December 11-12, 2018 at the FTC Constitution Center Auditorium, 400 7th St., SW, Washington, DC.
The data security hearings included five panel discussions and additional discussion of research related to data breaches and data security threats. The first day's panel discussions examined incentives to invest in data security and consumer demand for data security. Discussions on the second day focused on data security assessments, the U.S. framework related to consumer data security, and the FTC's data security enforcement program.
FTC staff welcomes comments on the data security hearing until May 31, 2019. If any entity has provided funding for research, analysis, or commentary that is included in a submitted public comment, such funding and its source should be identified on the first page of any submitted comment.
DISABILITY ACCOMMODATION
The FTC Hearings on Competition and Consumer Protection in the 21st Century will accommodate as many attendees as possible; however, admittance will be limited to seating availability. Reasonable accommodations for people with disabilities are available upon request. Request for accommodations should be submitted to Elizabeth Kraszewski via email at ekraszewski@ftc.gov or by phone at (202) 326-3087. Such requests should include a detailed description of the accommodation needed. Please allow at least five days advance notice for accommodation requests; last minute requests will be accepted but may not be possible to accommodate.
December 11, 2018

10:10-10:15 am

Elisa Jillson
Federal Trade Commission, Division of Privacy and Identity Protection

10:15-10:30 am

Andrew Smith
Federal Trade Commission, Bureau of Consumer Protection

10:30-11:45 am

Participants:

Sebastien Gay
Department of Economics
Georgetown University

John M. Spitler ("Marc")
Senior Manager
Verizon Security Research

Al Pascual
Senior Vice President for Research and
Head of Fraud & Security
Javelin Strategy & Research

Moderators:

Jared Ho
Federal Trade Commission, Division of Privacy and Identity Protection

Marc Luppino
Federal Trade Commission, Bureau of Economics

11:45 am-1:00 pm

Lunch

1:00-2:30 pm

Participants:

Lawrence A. Gordon
EY Alumni Professor of Managerial Accounting and Information Assurance
Robert H. Smith School of Business, University of Maryland, College Park

Tyler Moore
Tandy Associate Professor
of Cyber Security
The University of Tulsa 

Matthew Sharp
Chief Information Security Officer
Logicworks

Matthew P. McCabe
Senior Vice President and Assistant General Counsel on Cyber Policy
Marsh

Sasha Romanosky
Policy Researcher
RAND Corporation

Moderators:

Elisa Jillson
Federal Trade Commission, Division of Privacy and Identity Protection

Mike LeGower
Federal Trade Commission, Bureau of Economics

2:30-2:45 pm

Break

2:45-4:15 pm

Participants:

Justin Brookman
Director of Consumer Privacy
and Technology Policy
Consumer Reports Advocacy

Wiley Hodges
Director, Product Marketing
Apple, Inc.

Rick Wash
Associate Professor
Department of Media and Information
Michigan State University

Michael Higgins
Partner
Bluewater International

Kirsten Martin
Associate Professor
George Washington University

Moderators:

Jared Ho
Federal Trade Commission, Division of Privacy and Identity Protection

Marc Luppino
Federal Trade Commission, Bureau of Economics

4:15-4:20 pm

Closing Remarks

Jim Trilling
Federal Trade Commission, Division of Privacy and Identity Protection

 

December 12, 2018

 

9:30-9:35 am

Welcome and Introductory Remarks

Jared Ho
Federal Trade Commission, Division of Privacy and Identity Protection

9:35-11:05 am

Participants:

Malcolm Harkins
Chief Security and Trust Officer
Cylance Inc.

Troy Leach
Chief Technology Officer
Payment Card Industry Security Standards Council

Wendy Nather
Head of Advisory CISOs
Duo Security (now Cisco)

Carolyn Holcomb
Partner
PwC

Tom McAndrew
CEO
Coalfire

Garin Pace
Cyber Product Leader
American International Group

Moderators:

Elisa Jillson
Federal Trade Commission, Division of Privacy and Identity Protection

Jim Trilling
Federal Trade Commission, Division of Privacy and Identity Protection

11:05-11:15 am

Break

11:15-11:45 am

Participants:

Joshua Corman
Chief Security Officer
PTC; Co-founder
@IamTheCavalry, @RuggedSoftware

Commissioner Rebecca Kelly Slaughter
Federal Trade Commission

11:45 am-1:00 pm

Lunch

1:00-2:30 pm

Participants:

Chris Calabrese
Vice President, Policy
Center for Democracy & Technology

Daniel J. Solove
John Marshall Harlan
Research Professor of Law
George Washington University Law School

David Thaw
Assistant Professor of Law and Information Sciences                 
University of Pittsburgh

Janis Kestenbaum
Partner
Perkins Coie LLP

Lisa J. Sotto
Partner
Hunton Andrews Kurth LLP

Moderator:

James Cooper
Federal Trade Commission, Bureau of Consumer Protection

2:30-2:45 pm

Break

2:45-4:15 pm

Participants:

Woodrow Hartzog
Professor of Law & Computer Science
Northeastern University

William McGeveran
Professor and Associate Dean for Academic Affairs
University of Minnesota Law School

Michelle Richardson
Director, Privacy & Data Project
Center for Democracy & Technology

Geoffrey Manne
President and Founder
International Center for Law and Economics

Lydia Parnes
Partner
Wilson Sonsini Goodrich & Rosati

Moderators:

Jim Trilling
Federal Trade Commission, Division of Privacy and Identity Protection

Laura Riposo VanDruff
Federal Trade Commission, Division of Privacy and Identity Protection

4:15-4:30 pm

Maneesha Mithal
Federal Trade Commission, Division of Privacy and Identity Protection