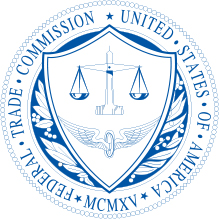 The seal of the Federal Trade Commission was adopted at the time of the agency's creation in 1915. Designed by Tiffany and Co., which at the time designed many of the seals used by government agencies, the FTC seal symbolizes many of the values that inform the agency's mission.
The seal serves as the agency's formal emblem and also is the centerpiece of the agency's flag, which was created in 1977.
Centennial Artwork
Our centennial artwork blends contemporary FTC branding with the symbolism of our 100-year-old seal. A fresh perspective on the key elements of our seal, it honors our history and acknowledges the enduring qualities our agency represents.   
This is not a new logo, nor does it replace our official seal. You'll see it throughout the year on agency-branded materials and at agency events.