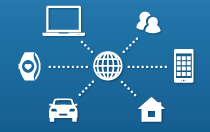 The Office of Technology Research and Investigation (OTech) is located at the intersection of consumer protection and new technologies. As a trusted source for research and information on technology's impact on consumers, the Office conducts independent studies, evaluates new marketing practices, and provides guidance to consumers, businesses and policy makers. It also assists the FTC's consumer protection investigators and attorneys by providing technical expertise, investigative assistance, and training. The Office is housed in the Bureau of Consumer Protection and its work supports all facets of the FTC's consumer protection mission, including issues related to privacy, data security, connected cars, smart homes, algorithmic transparency, emerging payment methods, fraud, big data, and the Internet of Things.
For additional technology-related content, please visit the Tech@FTC blog. 
Help protect consumers through research. The FTC welcomes researchers to inform us of their latest findings by emailing papers to research@ftc.gov. Please note that the FTC does not offer compensation of any kind to research submitters and that submitted research may be made public by the FTC. If your research reveals a security vulnerability or otherwise contains information that could pose a risk of harm to the public, before submitting the research to the FTC, please contact Dan Salsburg, Chief Counsel and Acting Chief of OTech, at dsalsburg@ftc.gov or 202-326-3402.
Featured
The Federal Trade Commission announced today that it is challenging the public to create an innovative tool that will help protect consumers from security vulnerabilities in the software of home devices connected to the Internet of Things. The agency is offering a cash prize of up to $25,000 for the best technical solution, with up to $3,000 available for up to three honorable mention winner(s).

The FTC is asking IoT Home Inspector Challenge contestants to develop a tool that would address security vulnerabilities caused by out-of-date software in IoT devices. An ideal tool might be a physical device that the consumer can add to his or her home network that would check and install updates for other IoT devices on that home network, or it might be an app or cloud-based service, or a dashboard or other user interface.  Contestants also have the option of adding features such as those that would address hard-coded, factory default or easy-to-guess passwords.
The Federal Trade Commission has released Cross-Device Tracking: An FTC Staff Report that describes the technology used to track consumers across multiple Internet-connected devices, the benefits and challenges associated with it, and industry efforts to address those challenges. The report concludes by making recommendations to industry about how to apply traditional principles like transparency, choice, and security to this relatively new practice. To read the report, please click here.

Last updated: 12/19/2016