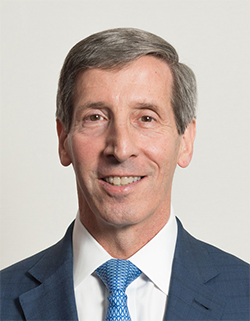 On behalf of my colleagues, we are proud to present the Federal Trade Commission's 2018 Annual Highlights, where we describe our most significant recent efforts to protect consumers and promote competition. The FTC has continued to focus on areas that have the greatest consumer impact, including health care, technology, and consumer products and services. In addition to stopping anticompetitive mergers and conduct, we are committed to pursuing vigorous enforcement and meaningful relief against consumer fraud, illegal robocalls, and privacy violations.
Our agency's greatest asset is our talented staff. When our people are empowered to do their best work (and, especially, to bring cases), consumers benefit and morale improves – a true win/win. I was thrilled when we learned that the FTC topped the 2018 list of Best Places to Work in Federal Government for agencies of our size. Moreover, among 415 agency subcomponents from all federal agencies across the entire government, our Bureaus of Consumer Protection and Competition were ranked third and fourth, respectively.
In 2018, the FTC continued to promote competitive markets, and thereby foster innovation and growth, by challenging harmful mergers and stopping anticompetitive business conduct. In addition to successfully litigating preliminary injunction actions in the Wilhelmsen/Drew Marine and Tronox/Cristal merger matters, the FTC blocked two other deals that were abandoned pre-trial, and accepted negotiated settlements to prevent harm in another ten transactions. In the first successful federal court monopolization case alleging an abuse of government processes, a federal district court awarded $448 million in consumer monetary relief after finding that drug maker AbbVie used sham litigation to illegally maintain its Androgel monopoly. The Commission also ordered 1-800 Contacts to end agreements with competitors that limited consumers' ability to search online for low-priced contact lenses.
2018 was a productive year on the consumer protection front as well. Unfortunately, fraudsters keep finding new ways to separate consumers from their money – but we are doing our best to get some of that money back into consumers' pockets. Notably, last year we obtained $125 million in a settlement with MoneyGram for not living up to its promises to reduce fraud; that money will go back to people who lost money to scammers when they wired funds through MoneyGram. We also mailed record-setting refunds totaling over $505 million to people deceived in the massive AMG Services/Tucker payday lending scam. Through Operation Donate With Honor, we coordinated a federal/state law enforcement and education initiative to combat charities that falsely claim to help veterans. And we continue to seek civil penalties, when available, for violations of statutes such as the Fair Credit Reporting Act, Consumer Review Fairness Act, and Children's Online Privacy Protection Act.
In addition to rigorous law enforcement, the Commission undertook several important policy initiatives in the past year. Most notably, last June I initiated the FTC's Hearings on Competition and Consumer Protection in the 21st Century, a series of hearings examining whether broad-based changes in the economy, evolving business practices, new technologies, or international developments might require adjustments to competition and consumer protection law, enforcement priorities, and policy. The FTC's enduring institutional strength has always been bolstered by our culture of self-reflection, our commitment to critical thinking, and our flexibility in response to changes in the marketplace. The 21st Century Hearings, led by our Office of Policy Planning and involving collaboration by staff throughout the agency, certainly have been designed and conducted in that spirit.
2018 was an historic time for the Commission. Four new Commissioners joined the agency in early May – myself, Noah Phillips, Rohit Chopra, and Rebecca Slaughter – and a fifth, Christine Wilson, arrived in September. Many of the accomplishments outlined in this report also reflect the tremendous work of former Acting Chairman Maureen Ohlhausen and Commissioner Terrell McSweeny (who departed the agency in September and April, respectively). We thank the FTC's dedicated staff for their unwavering commitment to protecting the interests of consumers and promoting a competitive marketplace. Together, my colleagues and I will ensure that the FTC continues its high-impact work on behalf of American consumers.