University of St. Thomas
46 South 11th Street
Minneapolis, MN 55403
United States
Directions & Nearby
Event Description
Join the Federal Trade Commission, Minnesota Attorney General's Office, Better Business Bureau of Minnesota and North Dakota, Mid-Minnesota Legal Aid, legal services attorneys and other consumer advocates, and state and federal consumer protection officials at the 2019 Midwest Common Ground Conference to discuss a variety of issues facing consumers today. Learn about emerging trends and existing challenges. Explore ways to collaborate and share information and resources. Discuss recent consumer fraud trends with consumer fraud experts, including frauds impacting younger and older demographics, lead generation issues, robocalls, automobile finance issues, and other topics relevant to Midwest consumers.
Preregistration Notice
The 2019 Midwest Common Ground Conference is open to invited participants and the public. There is no fee to attend. The FTC will accept pre-registration for this conference.  Pre-registration is not necessary to attend, but is encouraged so that we may better plan this event.
To pre-register, please complete the 2019 Midwest Common Ground Conference Registration Form.
A detailed agenda and additional information about the conference will be e-mailed to attendees.
When you pre-register, we collect your name, title, organization, and e-mail address. We use the name and affiliation you have provided for conference administration purposes—to estimate how many people will attend, prepare nametags, and better understand the likely audience for the conference. We may also use your e-mail address to contact you with information about the conference.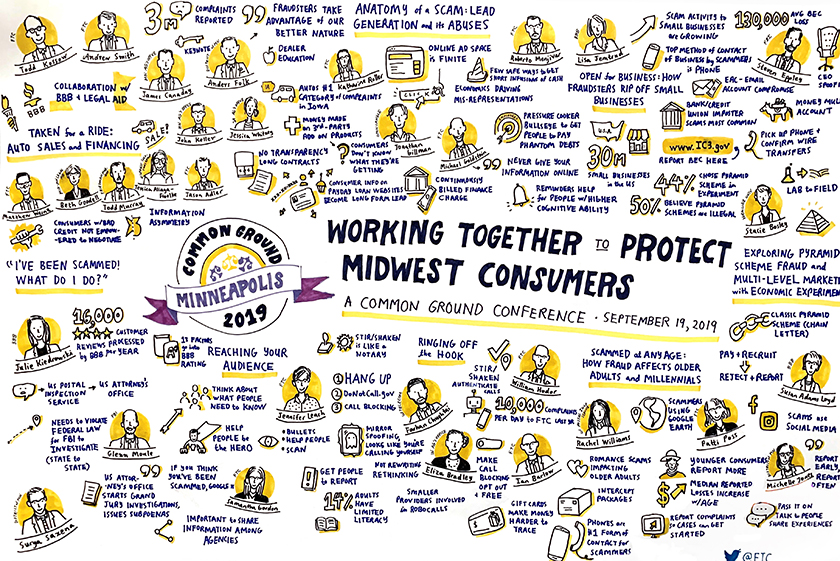 A BCP staff artist's representation of the Common Ground Conference.
8:30 - 9:00 am

Registration and Check-in

9:00 - 9:25 am

Welcome and Opening Remarks

Todd Kossow
Director
Federal Trade Commission
Midwest Region

Andrew Smith
Director
Federal Trade Commission
Bureau of Consumer Protection

9:25 - 9:45 am

Keynote Address

Introduction:

James Canaday
Deputy Attorney General
Minnesota Attorney General's Office

John Keller
Chief Deputy Attorney General
Minnesota Attorney General's Office

Anders Folk
First Assistant United States Attorney
District of Minnesota

9:45 - 10:30 am

Taken for a Ride: Auto Sales and Financing

Buying or leasing a car is one of the most expensive transactions many consumers face. It can also be one of the most challenging. This panel will discuss the perils consumers encounter in the auto marketplace—from false ads to undisclosed fees—what consumer protection agencies have been doing to prevent them, and what consumers can do to spot a scam.

Panelists:

Jessica Whitney
Director of Consumer Protection
Iowa Attorney General's Office

Jessica Aliaga‐Froelke
President
Hispanic Solutions Group

Todd Murray
Consumer Rights Attorney
Friedman Murray, PLLC
Minneapolis, Minnesota

Jason Adler
Assistant Director
Federal Trade Commission
Midwest Region

Moderator:

Beth Goodell
Supervising Attorney
Mid‐Minnesota Legal Aid

10:30 - 10:45 am

Break

10:45 - 11:45 am

Anatomy of a Scam: Lead Generation and Its Abuses

This panel will explore the behind-the-scenes world of online lead generation, focusing on the payday loan lead generation market. We will go in-depth to analyze two of the most brazen lead-related scams in history: Joel Tucker's use of payday loan leads to create and sell millions of fake debts to debt collectors, and Ideal Financial's use of payday loan leads to steal millions of dollars directly from unsuspecting consumers' bank accounts.

Panelists:

Jonathan Gillman
Founder and Chief Executive Officer
Omniangle Technologies, LLC

Michael Goldstein
Senior Financial Investigator
Federal Trade Commission
Division of Financial Practices

Roberto Menjivar
Investigator
Federal Trade Commission
Midwest Region

Moderator:

Katharine Roller
Staff Attorney
Federal Trade Commission
Midwest Region

11:45 - 12:15 pm

Open for Business: How Fraudsters Rip Off Small Businesses

Sensitive information, systems vulnerabilities, and human error all can make small businesses easy prey for scammers. In this session, speakers from the Better Business Bureau and the Federal Bureau of Investigation will address the riskiest small business scams; common tactics used by scammers; and preventative measures to protect small businesses and consumers alike.

Lisa Jemtrud
Vice President of Community Relations and Outreach
Better Business Bureau of Minnesota and North Dakota

Steven Eppley
Supervisory Special Agent
Federal Bureau of Investigation

12:15 - 1:25 pm

Lunch (On Your Own)

1:25 - 1:55 pm

Exploring Pyramid Scheme Fraud and Multi‐level Marketing with Economic Experiments

The modern consumer landscape is precarious, filled with offers that seem to occupy an opaque space between legal and illegal commerce. How do we best explore consumer vulnerability when research suggests there is no one stereotype that identifies a typical fraud victim? We might be susceptible to one form of fraud yet immune to another, suggesting that research is needed within each fraud type. Based on recent experimental research on pyramid scheme fraud and multi‐level marketing, we will discuss research findings as well as the promise and limitations of this approach to consumer protection research.

Stacie Bosley
Associate Professor of Economics
Department Chair for EFAQ
Hamline University

1:55 - 2:40 pm

Scammed at Any Age: How Fraud Affects Older Adults and Millennials

This panel will discuss elder justice issues as well as the emerging data about how younger adults are defrauded. Panelists will review the unique ways in which older adults and millennials are scammed and will explore common red flags between the two.

Panelists:

Michelle Jones
Deputy Criminal Chief
Major Crimes and Elder Justice Coordinator
United States Attorney's Office
District of Minnesota

Rachel Williams
Postal Inspector
United States Postal Inspection Service
Minneapolis, Minnesota

Patti Poss
Staff Attorney
Federal Trade Commission
Division of Marketing Practices

Moderator:

Susan Adams Loyd
Chief Executive Officer and President
Better Business Bureau of Minnesota and North Dakota

2:40 - 3:25 pm

Ringing Off the Hook

At record numbers, consumers continue to be bombarded with billions of illegal robocalls trying to hawk products or services or to outright defraud them. This panel will discuss efforts to combat illegal robocalls and the tools and technology to stop them. It also will provide advice on what consumers can do to stop unwanted calls.

Panelists:

Eliza Bradley
Deputy Attorney General
Data Privacy and Identity Theft Unit
Indiana Attorney General's Office

Farhan Chughtai
Director of Advocacy and Regulatory Affairs
USTelecom
The Broadband Association

Ian Barlow
Staff Attorney and Do Not Call Program Coordinator
Federal Trade Commission
Division of Marketing Practices

Moderator:

William Hodor
Staff Attorney
Federal Trade Commission
Midwest Region

3:25 - 3:40 pm
Break

3:40 - 4:55 pm

"I've Been Scammed! What Do I Do?"

Consumers are often unsure of what to do when they discover they have been scammed. Who do they complain to? How does the investigation work? What is the end result if they complain? This panel will discuss the various agencies that investigate consumer fraud, the services they can provide to consumers, and the procedure that is followed when they get a consumer complaint.

Panelists:

Surya Saxena
Assistant United States Attorney
District of Minnesota

Glenn Moule
Special Agent
Federal Bureau of Investigation
Minneapolis, Minnesota

Rachel Williams
Postal Inspector
United States Postal Inspection Service
Minneapolis, Minnesota

Julie Kiedrowski
Vice President of Business and Consumer Services
Better Business Bureau of Minnesota and North Dakota

Samantha Gordon
Staff Attorney
Federal Trade Commission
Midwest Region

Beth Goodell
Supervising Attorney
Mid‐Minnesota Legal Aid

Moderator:

James Canaday
Deputy Attorney General
Minnesota Attorney General's Office

4:55 - 5:00 pm

Wrap-up and Closing Remarks

Todd Kossow
Director
Federal Trade Commission
Midwest Region

June Chang
Visual Information Specialist
Federal Trade Commission
Division of Consumer and Business Education

5:15 - 7:00 pm

Reception (Location to be announced at the conclusion of the conference.)