Room
Vanderbilt Hall's Greenberg Lounge
Event Description
Commissioner Noah Joshua Phillips makes
remarks opening the eighth FTC hearing
The Federal Trade Commission held the eighth session of its Hearings Initiative with a one-day hearing at the New York University School of Law in New York City on December 6, 2018.
The day's panels examined concerns that acquisitions and holdings of non-controlling ownership interests in competing companies, for example by institutional investors, may have anticompetitive effects.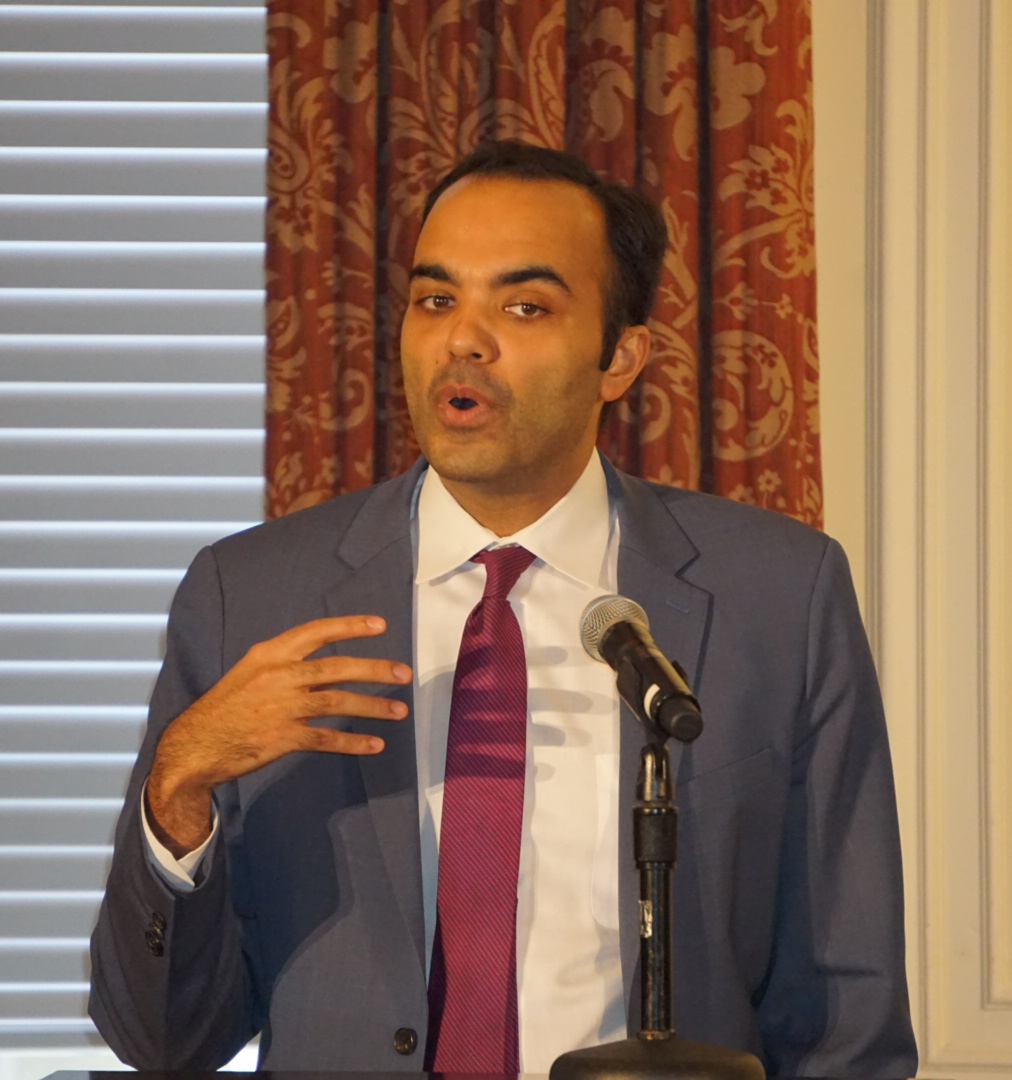 Commissioner Rohit Chopra makes
remarks at the eighth FTC hearing
Some recent econometric studies have concluded that when investors hold stock in competing firms, competition may be reduced among those commonly held competing firms. The Commission invites public comment on this issue, including on the questions listed below. 
What is the state of the econometric and qualitative evidence for and against the proposition that such common ownership reduces competition?
To what extent do the results suggest that this harm to competition extends to concentrated industries more generally? 
Is any likely harm limited to concentrated industries or does it extend to holdings in unconcentrated industries?
What are the potential mechanisms by which such stock holdings would lead to anticompetitive harm, and how likely are they to lead to anticompetitive results?
To what extent do institutional investors have the incentive and opportunity to affect corporate governance, particularly regarding competitive decision-making? How is such influence exercised?
What enforcement and policy responses should be adopted in light of the existing evidence?
What additional research should be undertaken on this issue?
What data would be most useful to answer the question of whether common ownership reduces competition in concentrated industries?
Comments can be submitted online and should be submitted no later than January 15, 2019. If any entity has provided funding for research, analysis, or commentary that is included in a submitted public comment, such funding and its source should be identified on the first page of the comment.
Disability Language
The FTC Hearings on Competition and Consumer Protection in the 21st Century will accommodate as many attendees as possible; however, admittance will be limited to seating availability. Reasonable accommodations for people with disabilities are available upon request. Request for accommodations should be submitted to Elizabeth Kraszewski via email at ekraszewski@ftc.gov or by phone at (202) 326-3087. Such requests should include a detailed description of the accommodation needed. Please allow at least five days advance notice for accommodation requests; last minute requests will be accepted but may not be possible to accommodate.
Corporate Governance, Institutional Investors, and Common Ownership

8:45-9:00 am

Trevor W. Morrison
Dean
New York University School of Law

9:00-10:00 am

Commissioner Noah Joshua Phillips
Federal Trade Commission 

Commissioner Robert J. Jackson Jr.
Securities and Exchange Commission

 

10:00-10:10 am

Break

10:10-12:10 pm

Participants:

Allison A. Bennington
ValueAct Capital

Kenneth Bertsch
Council of Institutional Investors

Heather Slavkin Corzo
AFL-CIO
Principles for Responsible Investment

Holly J. Gregory
Sidley Austin LLP

David Hirschmann
United States Chamber of Commerce

Scott Hirst
Boston University School of Law

Barbara Novick
BlackRock

Moderator: Edward Rock
New York University School of Law

12:10-1:00 pm

Break

1:00-1:15 pm

Commissioner Rohit Chopra
Federal Trade Commission

1:15-1:55 pm

Daniel P. O'Brien
Compass Lexecon

Martin Schmalz
University of Michigan
Ross School of Business

1:55-2:05 pm

Break

2:05-3:50 pm

Participants:

Einer R. Elhauge
Harvard University
Law School

Scott Hemphill
New York University
School of Law

Menesh S. Patel
University of California, Davis
School of Law

William H. Rooney
Willkie Farr & Gallagher LLP

Fiona M. Scott Morton
Yale University
School of Management

Moderators:

Daniel Rubinfeld
New York University School of Law
William F. Adkinson, Jr.
Federal Trade Commission, Office of Policy Planning

3:50-4:05 pm

Break

4:05-5:35 pm

Participants:

Christopher Conlon
New York University
Stern School of Business

Serafin J. Grundl
Federal Reserve Board

Daniel P. O'Brien
Compass Lexecon

Nancy L. Rose
Massachusetts Institute of Technology
Department of Economics

Martin Schmalz
University of Michigan 
Ross School of Business

Moderator: Nathan Wilson
Bureau of Economics, Federal Trade Commission
Request for Comments

If parties already filed relevant comments in response to the Initial Topics for Comment, they need not refile those comments here.