Agreement Provides for Increased Cooperation and Coordination Between U.S. and Colombian Antitrust Agencies
Federal Trade Commission Chairwoman Edith Ramirez has signed an antitrust cooperation agreement with the Colombian antitrust agency on behalf of the FTC.  The agreement also was signed by Bill Baer, Assistant Attorney General in charge of the Department of Justice's Antitrust Division, and went into effect today with the signature of Pablo Felipe Robledo, Colombia's Superintendent of Industry and Commerce. The agreement will enable the antitrust agencies in the two countries to enhance further their law enforcement relationship.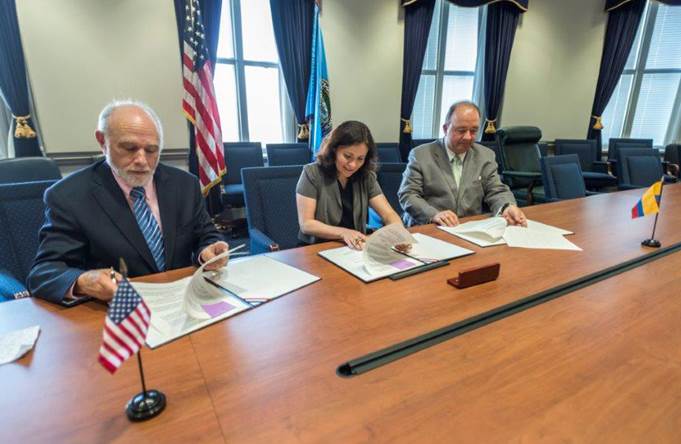 Signing the Memorandum of Understanding are, from left: Bill Baer, Assistant Attorney General in charge of the Department of Justice's Antitrust Division; Edith Ramirez, Chairwoman of the Federal Trade Commission; and Luis Carlos Villegas, Ambassador of Colombia to the United States. (Photo: Department of Justice)
The new agreement contains provisions for antitrust enforcement cooperation and coordination, conflict avoidance and consultations with respect to enforcement actions, and technical cooperation, and is subject to effective confidentiality protections.

The U.S. antitrust agencies and Colombia's Superintendence of Industry and Commerce, the agency that enforces Colombia's competition law, have steadily improved their ties, both bilaterally and under the terms of the U.S.-Colombia Trade Promotion Agreement.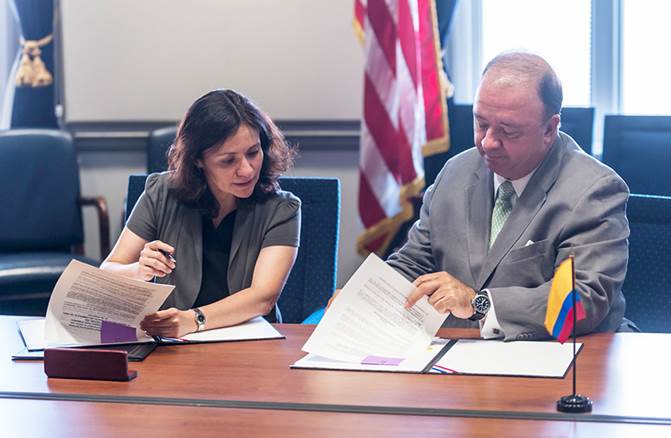 Chairwoman Ramirez signs the Memorandum of Understanding with Ambassador Villegas participating. (Photo: Department of Justice)
"Colombia has a well developed competition regime, and we have a strong working relationship with its competition agency," said Chairwoman Ramirez. "We look forward to working with the Superintendence to advance our shared goal of promoting convergence around sound competition policy throughout the hemisphere."

"The Colombians have a proven antitrust system, and this agreement will allow us to work more closely with our colleagues in Bogotá," said Assistant Attorney General Baer.  "Enforcement cooperation based on sound policies is critical to maintaining competitive markets in the Americas, particularly for economies as linked as ours."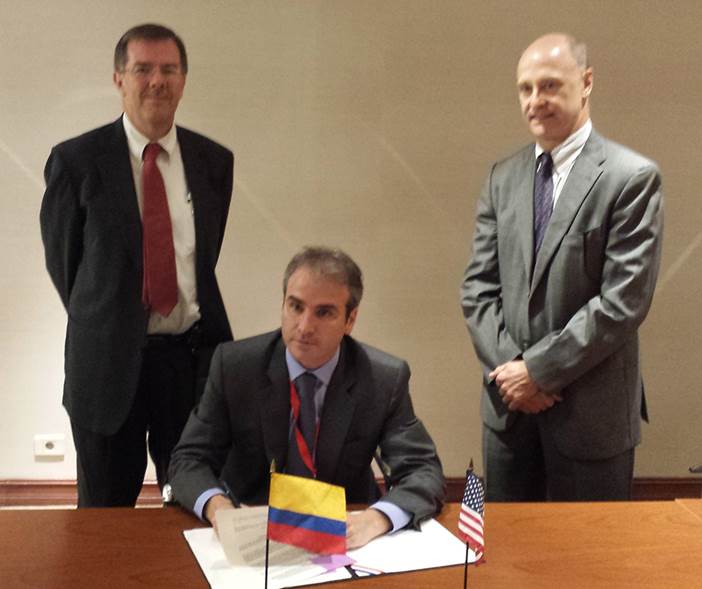 Pablo Felipe Robledo (seated), Colombia's Superintendent of Industry and Commerce, signs the MOU. Looking on are (at left) Russell Damtoft, Associate Director, FTC Office of International Affairs, and Caldwell Harrop, Dept. of Justice.
Highlights of the new agreement include:
Mutual acknowledgment of the importance of antitrust cooperation, including information sharing and possible coordination of enforcement actions when pursuing enforcement activities with regard to related matters;
Agreement to take one another's important interests into account in order to minimize possible conflicts arising out of antitrust enforcement actions; and
Agreement to maintain the confidentiality of any sensitive information provided by the other party.
The agreement entering into force today does not change existing law in either country. Colombia has had a law dedicated to the preservation of competition since 1959.  This cooperation agreement is similar in substance to those previously signed by the U.S. antitrust agencies with other jurisdictions in the Americas, including Brazil, Canada, Chile, and Mexico.

According to the Office for the United States Trade Representative, Colombia is currently the United States' 21st-largest goods trading partner, with $40 billion in total (two way) goods trade during 2013.  Goods exports totaled $19 billion, while imports totaled $22 billion.

The Commission vote authorizing Chairwoman Ramirez to sign the cooperation agreement was 5-0.
As more U.S. companies and consumers do business overseas, more FTC work involves international cooperation.  The Office of International Affairs serves both as an internal resource to Commission staff on international aspects of their work and as an official representative to numerous international organizations.  In addition, the FTC cooperates with foreign authorities through formal and informal agreements.  The FTC works with more than 100 foreign competition and consumer protection authorities around the world to promote sound policy approaches.  For questions about the Office of International Affairs, send an e-mail to oia@ftc.gov. Like the FTC on Facebook, follow us on Twitter, and subscribe to press releases and the FTC International Monthly for the latest FTC news and resources.
Contact Information
FTC MEDIA CONTACT:
Peter Kaplan
FTC Office of Public Affairs
202-326-2334

DOJ MEDIA CONTACT:
Emily Pierce
DOJ Office of Public Affairs
202-514-2007