Federal Trade Commission law enforcement actions resulted in more than $392 million in refunds to consumers in 2022, the agency said in its annual report on refunds. More than 1.9 million consumers benefited from FTC refund payments.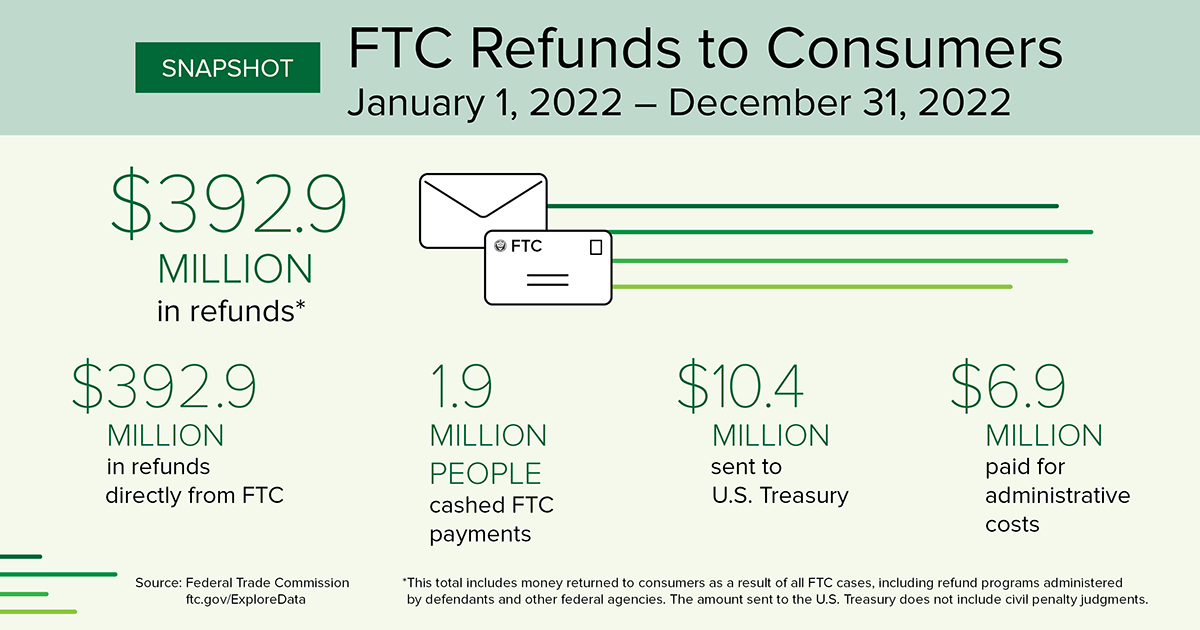 The FTC Annual Report on Refunds to Consumers provides a breakdown of the total amount refunded by the FTC nationally, as well as the amount mailed to each state. The report also includes a list of cases in which the agency sent first distribution payments in 2022. For example, the largest first distribution resulted in $149 million sent to consumers allegedly harmed by AdvoCare's illegal pyramid scheme.  In addition to statistics about each distribution in 2022, the report also includes information about how the FTC provides refunds and determines who is eligible for a refund in cases where there is money to return to consumers.
More than 90% of the $392 million that the FTC returned to consumers came from cases resolved before the Supreme Court's 2021 ruling in AMG Capital Management, LLC v. FTC, which stripped the FTC of its ability to recover redress for consumers pursuant to Section 13(b) of the FTC Act.  By comparison, in the four years preceding AMG, the FTC returned more than $11 billion to consumers using its Section 13(b) authority.
Refunds to consumers will likely continue to decrease in future years as the FTC completes distributing money obtained from pre-AMG enforcement actions such as AdvoCare. For example, because of AMG, the courts could not order defendants to pay refunds in actions such as Cardiff/Redwood Scientific, which involved $18 million in consumer harm, or Zycal Bioceuticals, which involved approximately $6.5 million in consumer losses.
The FTC also has interactive dashboards online with more detailed information about consumer refunds at ftc.gov/exploredata. The dashboards include the ability to search for the number of refunds issued by state for each case as well as breakdowns of the forms of payment used to provide refunds in various cases.