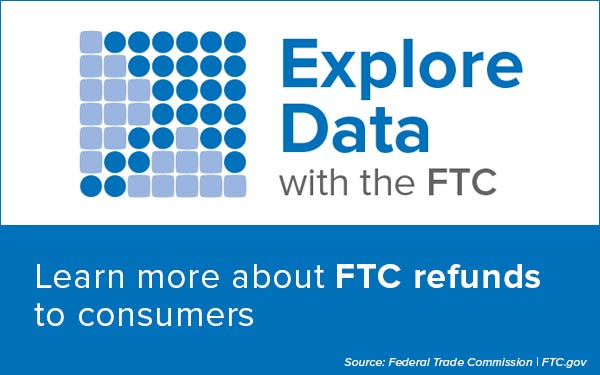 FTC Annual Reports on Refunds to Consumers
The goal of FTC law enforcement actions is to stop illegal practices, and when possible, get refunds to people who lost money.
Once an FTC lawsuit or settlement is final and the defendants have paid the money the court orders, the Bureau's Office of Claims and Refunds develops a plan for returning that money to the right people. If there is money left over at the conclusion of the refund program, or if there is not enough money to provide meaningful refund amounts, then the FTC may send the money to the U.S. Treasury, where it is deposited into the General Fund, as required by court order and the law. Learn more about the refund process.
Data on FTC refunds are available in interactive online dashboards. Users can explore refund data by case or by year to learn about where refunds were sent, the dollar amounts refunded, and the number of people who benefited from FTC refund programs. 
Nearly all the refunds provided to consumers noted above were in cases that were resolved prior to the Supreme Court's April 2021 decision in AMG Capital Management, LLC. v. FTC, which invalidated the Commission's ability to obtain refunds for consumers under Section 13(b) of the FTC Act.  Once the Commission completes distribution of funds obtained in cases resolved prior to AMG, we expect that future Commission distributions will be far less due to the loss of the ability to obtain monetary relief under Section 13(b).