News and Events
Featured Story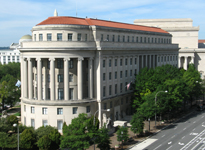 Case Is Second Settlement with Marketers of HCG Products this Year
Latest News
Past Events
District Of Columbia
For 100 years, the Federal Trade Commission has distinguished itself as a unique and nimble institution. The FTC continually evolves and innovates to promote competition and protect consumers. Please join the five current Commissioners as they lead a day-long examination of the FTC'...
District Of Columbia
On the evening of November 6, 2014, the FTC will co-host an anniversary dinner at the JW Marriott Hotel in Washington, DC with the Antitrust Section of the American Bar Association.  Tickets For more information or to purchase tickets, visit the event's registration page.