By: Lorrie Cranor | Jan 17, 2017 10:35AM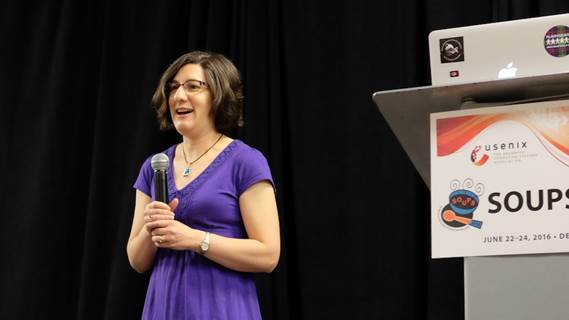 Over the past year, I have spoken to a large number of researchers at conferences (see for example my keynote presentation at SOUPS 2016) and in my visits to universities, and I have talked with them about the FTC's mission to improve the welfare of US consumers. Many researchers have asked me how they can help. Some have told me about ongoing research that they think might be useful to the FTC. Others are starting new research programs and would like to shape their research in ways that would best help protect consumers. Some faculty members have told me they would like to assign real world problems for their students to work on for class projects.
As I finish my year as FTC Chief Technologist, I wanted to take one more opportunity to encourage researchers to conduct research relevant to consumer protection and share it with the FTC. In this blog post, I share some thoughts on research in nine areas that I believe would be useful to the FTC. At the end I provide information about how to get in touch with FTC staff to discuss research.
Disclosures and labeling
The use of effective information disclosures has been critically important in many areas of consumer protection. Under the FTC Act, if an advertisement makes express or implied claims that are likely to be misleading without certain qualifying information, that information must be disclosed clearly and conspicuously. In addition to this general requirement for disclosure of material information, certain laws enforced by the FTC mandate a variety of specific consumer-facing disclosures in areas such as clothing care, telemarketing, business opportunities and franchises, financial transactions, funeral services, and privacy.
In many instances, FTC staff provides guidance on the need for disclosures in particular industries or when particular marketing techniques are being used. For instance, FTC staff has recently provided such guidance to marketers who engage in online commerce or use native advertising or testimonials and endorsements. In some cases, disclosures are linked directly to "choice" mechanisms. For example, financial institutions are required to provide privacy notices that include instructions on how to opt-out of certain data uses. It is also important that disclosures do their job effectively. In September 2016, I coordinated an FTC workshop that discussed research related to disclosure evaluation.
A variety of disclosure-related research would provide useful information to FTC staff: for example, studies that evaluate the use of specific disclosures mandated by laws enforced by the FTC; the use of disclosures that market participants currently use; and the likely effectiveness of disclosure models, content, and format that have been proposed by the FTC or other parties. Research on privacy notices and advertising-related disclosures would be particularly relevant to FTC work. However, research on other types of disclosures as well as disclosure best practices and disclosure evaluation more generally may also be of interest – for example, research investigating advantages and disadvantages of concise disclosures, icons, symbols, and badges, as opposed to more detailed disclosures.
Understanding and quantifying privacy and security
Privacy and security are important to the FTC's consumer protection mission. Research that investigates how consumers value privacy, the way consumers balance privacy interests with other interests, how companies assess and manage security risks, and the way consumers are impacted by privacy and security breaches would provide valuable information. FTC staff is also interested in privacy and security attack trends and mitigations. I previously blogged about privacy and security research that could benefit the FTC as well as how research in support of the National Privacy Research Strategy can further the work of the FTC. In addition, Commissioner McSweeny, Joe Calandrino, and I discussed privacy and security research of interest to the FTC in presentations at DEF CON (see Cranor/McSweeny video, Cranor/McSweeny slides, and Calandrino/McSweeny video).
Ads and marketing
The FTC regulates advertising and marketing practices to protect consumers from those that are unfair or deceptive. Research related to new advertising and marketing practices and research that provides insights into how advertising and marketing practices are used in new media would aid FTC staff. Topics of potential interest include research related to fake online reviews, affiliate marketing, lead generation, and ads used as part of scams.
The FTC is also interested in how consumers interpret claims made in advertisements. For example, the FTC has conducted research in the past investigating food health claims and "up to" claims. In addition, the FTC recently held a workshop on consumer perceptions of "organic" claims and published research on this topic.
Investigation and enforcement
The FTC investigates and enforces consumer protection cases. Research that evaluates the impact of past enforcement actions would be of interest to staff.
Consumer complaints to the FTC help the FTC understand trends in fraud, scams, and unwanted telemarketing. FTC staff would be interested in research on more effectively encouraging consumers to report fraud, scams, and unwanted telemarketing and robocalls, as well as research that helps us better understand fraud and attacker ecosystems, automate the detection of fraud, or educate consumers about fraud.
Financial technologies
New approaches to storing, sharing, and spending money – for example, crowd funding, virtual currencies, marketplace and peer-to-peer lending, and mobile wallets – bring new opportunities, but also new consumer protection concerns. Research that assesses the risks and protections associated with these technologies in general, and compares competing technologies and platforms would be of interest to staff.
Consumer and business education
The FTC educates consumers and businesses through a variety of educational materials – including blog posts, videos, brochures, web content, and online games. FTC staff would be interested in research that describes the education landscape, the challenges of cutting through the noise with effective messages, and best practices for measuring and evaluating success. In addition, objective research on the effectiveness of specific FTC consumer education materials could help staff continue to improve these materials.
Every community
Some broadly targeted frauds – such as debt-related fraud and income-related fraud – are more likely to affect certain communities. Meanwhile, some scams target specific populations – for example, people seeking help with the immigration process or older adults on the Medicare program. FTC staff is interested in gaining a better understanding of how fraud affects different groups, including older adults, service members and veterans, low-income communities, and minorities. In addition, staff is interested in the ways that these groups are impacted by automated algorithms that are used to make decisions, including what ads and offers they receive. Recently, the FTC held a workshop on the Changing Consumer Demographics that discussed some of these issues. Research that would inform the FTC's efforts to reach diverse communities with consumer education materials could also be beneficial.
Tools & Techniques
The FTC's Office of Technology Research and Investigation (OTech) assists with investigations and conducts independent research. OTech staff is interested in learning about tools and techniques that will facilitate its research in areas of interest and data collection that will inform the agency's work. For example, staff is interested in automated tools to help understand data collection and sharing practices, automate the detection of fraud, detect various forms of tracking and targeting, detect discrimination in algorithms, and identify vulnerable IoT devices (see the IoT Home Inspector challenge we announced earlier this month). In addition, staff is interested in tools that may help consumers protect their privacy and security, protect themselves from fraud, and avoid unwanted calls.
Emerging technologies and trends
The FTC staff tries to anticipate and stay up-to-date on emerging technologies and trends that may impact consumers. Staff have been following developments related to connected devices and cloud services among others. Virtual reality, 3D printing, and bots may pose new risks to consumers as well. Share your research that will help us protect consumers from emerging threats in these and other areas.
Contact us!
The FTC staff is always interested in hearing from researchers and has set up an email address where you can reach out with thoughts and ideas or provide staff with a copy of your work. Feel free to contact research@ftc.gov and I'm sure you'll have an engaging conversation with one of my soon-to-be-former colleagues!
For more information about how the FTC handles your personal information, including routine uses permitted by the Privacy Act, please see our privacy policy.
The author's views are his or her own, and do not necessarily represent the views of the Commission or any Commissioner.