By: Patti Poss, FTC Funeral Rule Program Coordinator | Jun 8, 2020 12:08PM
If your business sells funeral goods and services, you probably know that the FTC Funeral Rule requires funeral providers to give itemized price lists to consumers. To help ensure that you know what specific information needs to be in the lists and when you must provide it, the FTC has released a new tip sheet, Funeral Rule Price List Essentials.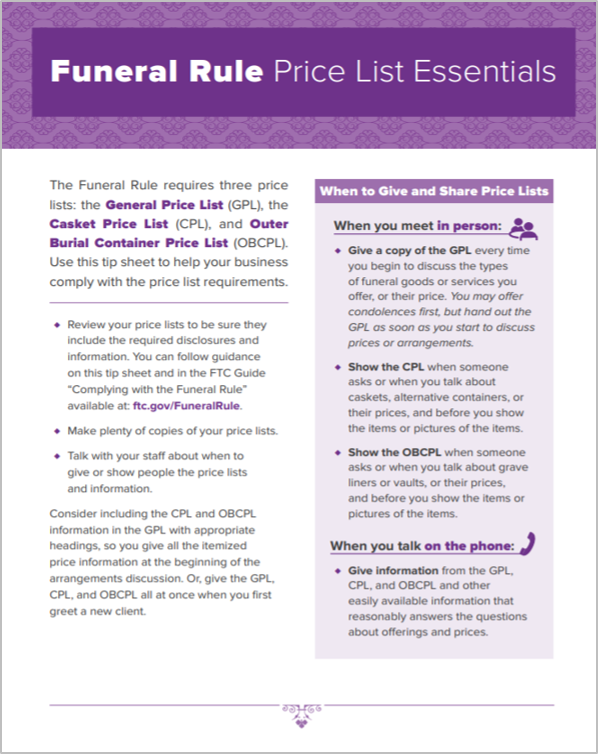 The Funeral Rule requires three price lists: the General Price List (GPL), the Casket Price List (CPL), and the Outer Burial Container Price List (OBCPL). If you are a funeral provider, review your price lists to be sure they include the required disclosures and information. You can follow guidance on the tip sheet and in the FTC Guide Complying with the Funeral Rule.
Next, make plenty of copies of your price lists so you and your staff have the information readily available to share.
Then, talk with your staff about when to give or show people the price lists and information. The tip sheet reviews when you need to give the information over the phone and in person. Here are the basics for each type of contact:
When you meet in person.  Give a copy of the GPL every time you begin to discuss the types of funeral goods or services you offer, or their price. Show the CPL when someone asks or when you talk about caskets, alternative containers, or their prices, and before you show the items or pictures of the items. And show the OBCPL when someone asks or when you talk about grave liners or vaults, or their prices, and before you show the items or pictures of the items.
When someone calls. Give information from the GPL, CPL, and OBCPL and other easily available information that reasonably answers the questions about offerings and prices.
One final tip: Consider including the CPL and OBCPL information in the GPL with appropriate headings, so you can make it your practice to give all the itemized price information at the beginning of the arrangements discussion. Or give the three lists all at once when you first greet a new client.
For more resources, visit the FTC's special page for members of the funeral industry.