By: Lesley Fair | Oct 28, 2019 1:14PM
When it comes to fraud, there's no such thing as a generation gap. According to reports in the FTC's Consumer Sentinel database, fraud affects every generation. But that's only half the story. What else the reports tell us is that fraud affects every generation differently. The FTC has a new interactive tool that demonstrates those differences graphically, giving users exactly the data they ask for.
If you haven't checked out the FTC's Tableau Public page, a new infographic – Explore Age & Fraud Loss – is a good opportunity to take it for a test drive. It illustrates fraud-related reports in the Consumer Sentinel database, allowing you to customize it by year, age, kind of fraud, reported fraud loss, payment method, and contact method.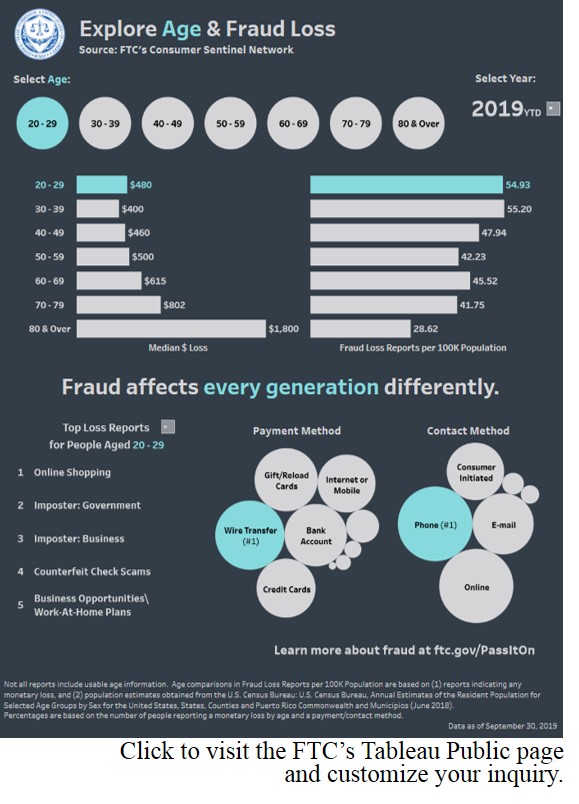 Decade by decade, check out what people have reported in the first three quarters of 2019:
20-29:  Consumers in their 20s reported losing more money per person to fake check scams than any other scam.
30-39: Relative to their population size, people in their 30s reported fraud losses at a higher rate than any other age group.
40-49: Folks in their 40s most commonly reported that their contact with fraud happened online and that they paid with a credit card.
50-59: Fifty-somethings reported that they lost more total money to romance scams than any other fraud.
60-69: The top way that people 60 and over reported paying for what turned out to be a scam was with a gift or reload card.
70-79: The #1 form of fraud reported by people in their 70s was tech support scams.
Visit Explore Age & Fraud Loss and then post your favorite fraud factoid here based on what you learned from the new interactive tool.
Why is it important to the FTC to make consumer complaint data available in this format? Fraud morphs faster than the old annual Consumer Sentinel Network Data Book could reflect. The new online format allows users to track trends over time or even to use interactive maps to see what people are reporting in their area. By making Consumer Sentinel data more accessible, we hope more consumers will be motivated to report their experiences to the FTC. We also want to promote data-driven outreach by the media, government agencies, and consumer groups to help the public spot and avoid fraud. The new format makes it easier to incorporate all kinds of graphics into presentations and publications.
Why should fraud statistics matter to your business? The obvious point is that who's losing money are your friends, your parents, your kids, your employees, and perhaps even you. In addition, every buck pocketed by a fraudster is a dollar that a consumer can't spend on products and services sold by a legitimate company. So scams pack a double wallop, harming consumers and reputable businesses.