By: Carol Kando-Pineda | Oct 19, 2017 10:08AM
The Federal Trade Commission and Victory Media, Inc. have reached a proposed administrative consent agreement resolving allegations that Victory Media violated Section 5 of the FTC Act in connection with its promotion of post-secondary schools to military consumers.
Victory Media reaches servicemembers through its magazines G.I. Jobs, the Guide to Military Friendly Schools, and Military Spouse, its websites, including militaryfriendly.com, militaryspouse.com, and gijobs.com, and on social media platforms, including Facebook, Twitter, LinkedIn, and YouTube. According to the FTC's complaint, some of the company's advice and tools deceptively promoted schools that paid the company for those promotions, including some schools the company had deemed not "military friendly."
Among other offerings, Victory Media helps servicemembers find the right educational choice through an online Matchmaker tool that purports to search schools it deems "military friendly," a designation Victory Media created based on publicly available data and a voluntary survey related to the educational needs and interests of military students. According to the complaint, beginning in mid-2015, the company has included schools as possible search results for its Matchmaker tool only if the schools paid it to be included, regardless of whether the company has designated them as "military friendly" under its criteria. Victory Media also has endorsed individual schools in certain articles, emails, and social media posts it creates discussing educational opportunities without adequately disclosing that, in many cases, the schools paid the company to be endorsed in those specific materials.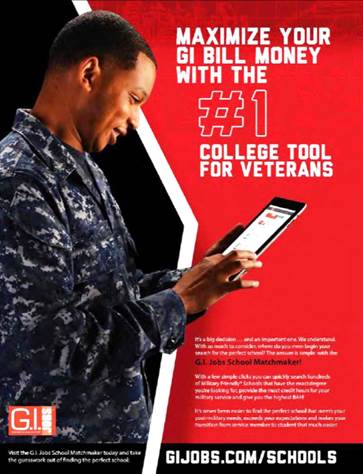 The FTC is accepting public comments about the proposed settlement until November 20, 2017.
This blog post was corrected and clarified on October 21, 2017.