By: Lesley Fair | Aug 7, 2017 12:21PM
Here's a riddle. What five-letter word can mean a try-out, a source of vexation, and a legal proceeding?
The word is "trial" and all three definitions are relevant to a lawsuit the FTC filed against a labyrinth of 59 corporations and three individuals. The defendants claim to offer a trial of teeth whitener. Consumers face the trial of unauthorized recurring charges on their credit cards. And trial is where the FTC is willing to go to enforce the law against illegal negative options.
According to the FTC, the defendants operate at least 87 websites, many of which pitch products through negative options. The defendants use affiliate marketers to drive traffic to their sites, often through embedded links in blog posts, banner ads, and purported surveys.
For example, in one type of promotion, affiliate marketers send people an email inviting them to fill out a "customer satisfaction survey" for well-known retailers like Kohl's or Amazon. (Let's be clear: Kohl's and Amazon have nothing to do with the purported survey.) After answering the questions, consumers are offered a "reward" for their participation. A click on the teeth-whitening link takes them to one of the defendants' sites – and puts cash in the affiliate marketer's pocket.
Once on the site, the defendants direct consumers to TELL US WHERE TO SEND YOUR TRIAL TODAY! If consumers type in their mailing address, they're taken to a check-out page that prominently displays the cost this way: "Price $1.03; TOTAL $1.03 + S&P." A blinking button says COMPLETE CHECKOUT.
Here's where the nature of the promotion gets even more complicated. The exact wording varies depending on the webpage, but the defendants include language like this in a dense block of small grey text below the COMPLETE CHECKOUT button:
Risk Free Trial Terms and Conditions. 1. You must be 18 years old or older to participate in this Risk Free Trial. 2. You must use your own credit card or debit card. 3. Start your Risk Free Trial now to receive a trial supply of First Class Whitening. You simply invest $1.03 plus a S&P fee of up to $3.87 to evaluate this great teeth whitening product for yourself. 4. Your credit card will be charged the selected S&P charge above. 5. If First Class Whitening is not right for you, call 1-866-221-1656 within 8 days from your order date to cancel your trial and you owe nothing more. 8. By participating in the Risk Free Trial, you are getting the rate of $94.31 a discount of 40% off the normal retail price and you will be responsible for taking affirmative action during the Risk Free Trial period to avoid further charges outlined in How the Offer Works. 7. By clicking on the button above, you are agreeing to the terms and conditions in How the Offer Works, including the Arbitration and Waiver of Class Actions section. You may call 1-877-530-9637 anytime to contact customer service regarding your shipment.
Got it? We didn't think so – and the FTC alleges consumers aren't likely to either because buried in the fine print is the fact the defendants will be sending them more teeth whitener every month and charging them $94.31 plus shipping and processing until they affirmatively cancel. But there's another twist because according to the complaint, the defendants immediately charge consumers' credit cards $1.03 for the trial offer and then 8-10 days later charge them $94.31 for the first full-price automatic shipment. What's more, they send the $1.03 trial "reward" and the pricey first month's supply in one package. In other words, according to the FTC, the defendants enroll consumers in an automatic shipment program before consumers even get the product to try. So much for getting a "risk free trial" to see if the teeth whitener is "right for you."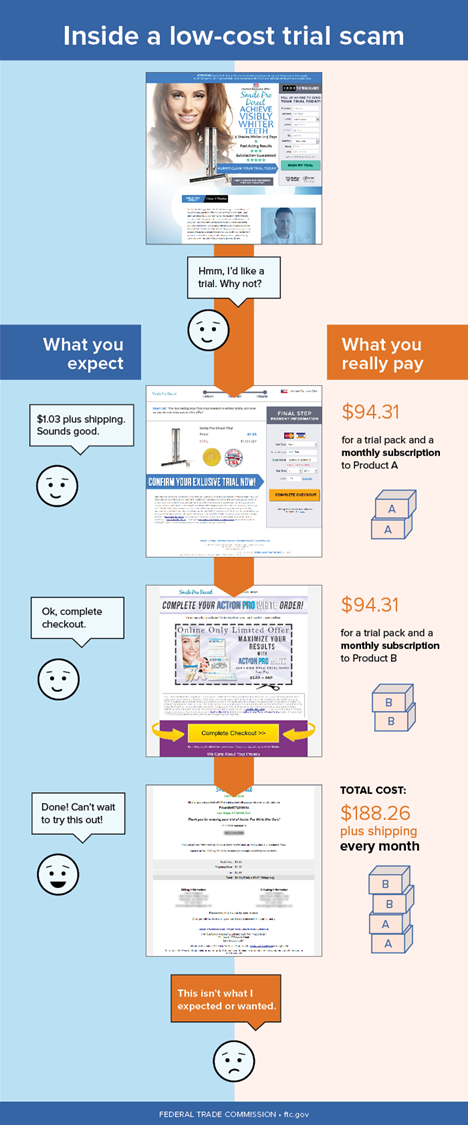 It doesn't end there. In some versions of the promotion, after consumers click the COMPLETE CHECKOUT button, they're taken to another page with what looks like a coupon and another COMPLETE CHECKOUT button, a format the FTC says leads many consumers to think they're simply confirming their initial order. But according to the complaint, a second click of the button means that the defendants sign consumers up for a second negative option program for a second teeth whitener – meaning a second unauthorized monthly credit card charge. Tote it up and consumers who were willing to spend a buck for their "reward" found themselves on the hook for $200 or more every month.
Filed in federal court in Nevada, the lawsuit alleges that the defendants have violated both the FTC Act and the Restore Online Shoppers' Online Confidence Act (ROSCA). At the FTC's request, the court has temporarily halted the operation and frozen its assets.
Even at this early stage, the case suggests practice pointers for companies that want to stay on the right side of the law. If you use negative options in your online marketing – and that includes "trials" – ROSCA requires that you: 1) clearly and conspicuously disclose all material terms of the transaction before obtaining consumers' billing information; 2) get consumers' express informed consent before making the charge; and 3) provide a simple mechanism for stopping recurring charges – and honor it. Fineprint footnotes, obscure hyperlinks, and other hide-and-seek tactics are likely to arouse the ire of consumers and the concern of law enforcers.
Do you have family or friends who have been taken in by a trial offer? Here's a new infographic from the FTC to explain what may be going on behind the scenes.